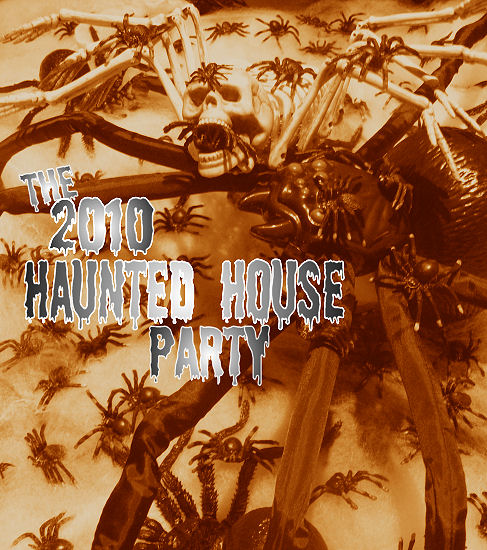 Haunted House Party 2010

Halloween Home Page
The Thank You's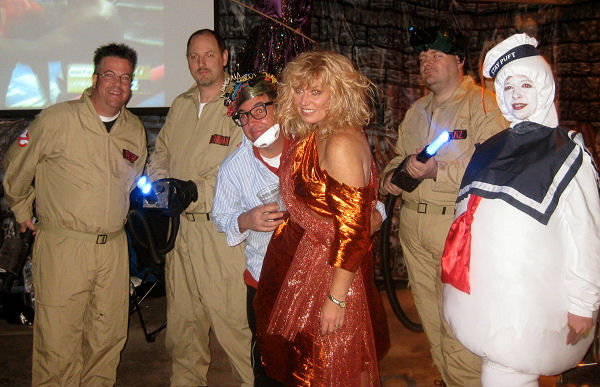 The biggest thanks this year once again goes to Stantz (Ghostbuster on the right) - Frank
he actually took off work a couple days to help - Also Spengler (Ghostbuster on the left)
for helping with video set up & bringing the beer pong table & also to Venkman (middle Ghostbuster) for helping with
everything for two nights.
thanks also for ridding the house of ghosts.
more thanks:
to Bill & Joan (ceiling fans) for lending me a bunch of Halloween items



A BIG thank you to Steve, Shannon, Shannon, Ron, Cindy, John, Renee & Frank for sending pictures,
also to Joan for taking pics with our camera.
and Lauren, Annie, Matt & Carla for unwittingly letting me grab your photos from FaceBook.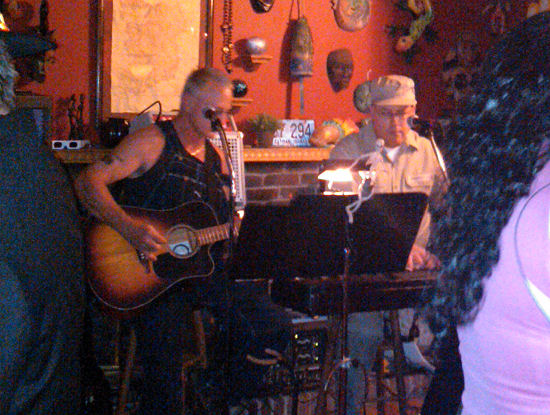 Another thank you goes to the Gomer Pyle & Mike Holmes (Holmes on Homes) (the Tim & John band)
Great show once again!
Their web page: Tim & John
These guys play all over Pittsburgh, we just saw them at Sieb's Irish Pub the other night!
You can email Tim to get show information: SaxManTim@Verizon.net

Best Costume - Academy Award (as voted by the Academy)
GLEE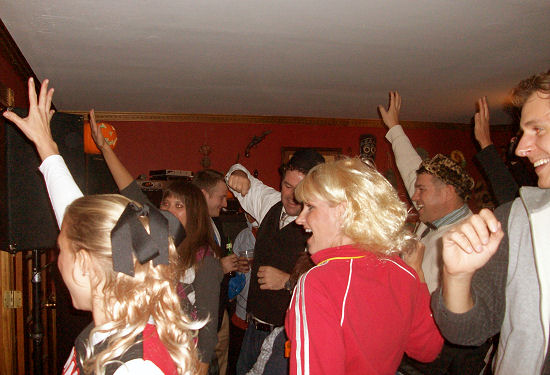 Sue Sylvester, Will Schuester, Noah "Puck" Puckerman, Brittany Pierce
Finn Hudson, Rachel Berry, Kurt Hummel, Tina, Mercedes Jones & Arty Abrams
Rumor has it Finn & Rachel brought "Slushies" and were buying votes with them.
I took a few minutes while waiting for people to send in photos to make a UToob video for GLEE

I had know idea they put this much work into this, I had never even heard of Glee
Best Costume - People's Choice Award (you guys voted for him/her)
Serena Williams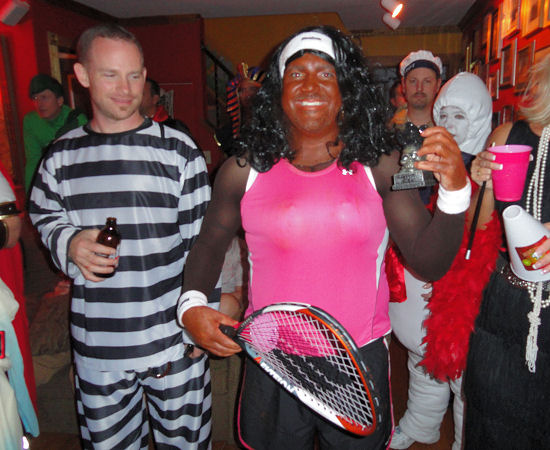 Serena's wife asked me during the evening if there was
any way I could help her, her husband's left boob was deflating.

Funniest Costume - Peoples Choice Award (you guys voted for them)
Progressive Insurance / Nationwide Insurance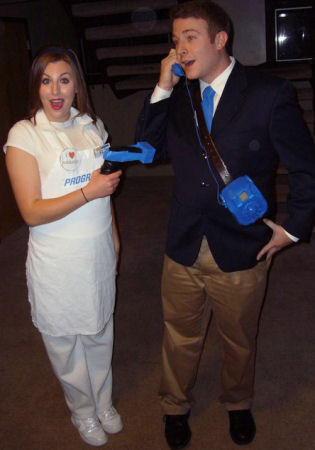 OK, that really really really looks like the Progressive girl
The 2010 HHP Lifetime Achievement Award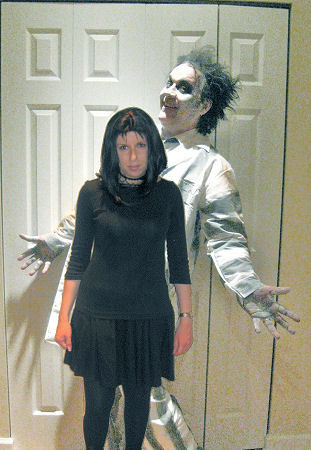 Lydia Deetz & Betelgeuse (Beetlejuice)
When Liz and Shultz came to their first Haunted House Party (our third year)
I greeted Herman & Lilly Munster at the door. Herman was jumping up and down, shaking his arms
& laughing just like on the TV show, I knew they had just upped the ante for our parties thereafter.
They are the proud owners of 3 Academy Awards, 1 Best Costume Peoples Choice Award,
and 3 Funniest Costume Peoples Choice Awards.
Lot's of incredible costumes this year and only so many awards to go around!

I have noticed a few ways to get more votes:
1. Make your costume something that people know and can spell
2. Make sure to be seen
3. Get in a big group and have everyone in the group vote for you.
4. If they all fail: beg, plead and fix the vote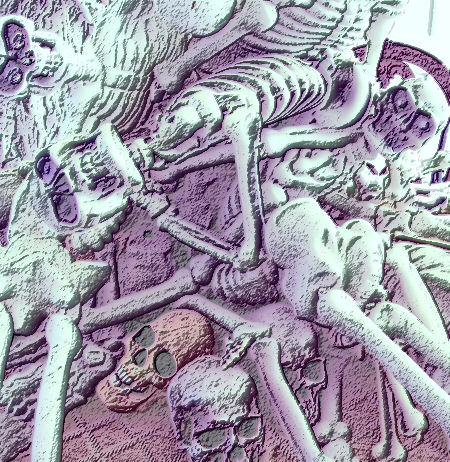 the JIHMA's
(Johnny's Internet Honorable Mention Awards)
(Pronounced Jeema)

Saved by the Bell - Kelly & Zack
Sometimes you don't notice how great
a costume is until you see the picture.
More Costumes
and my guesses as to what they are.
Once again we are missing lot's of pictures of costumes.
Please send your pictures, I will add them!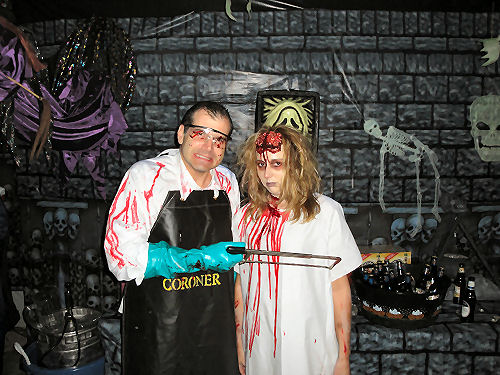 Coroner & Zombie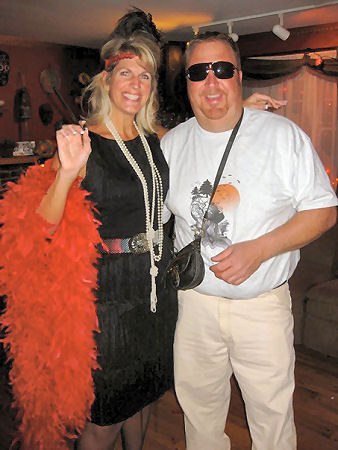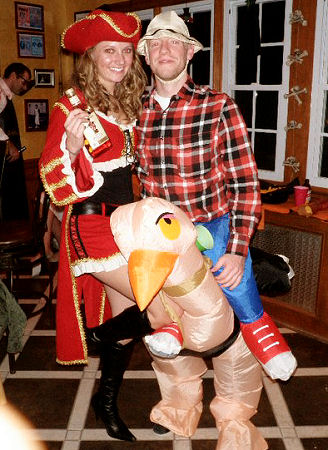 Flapper & Alan Garner (Hangover) Captain Morgan & some guy riding a Ostrich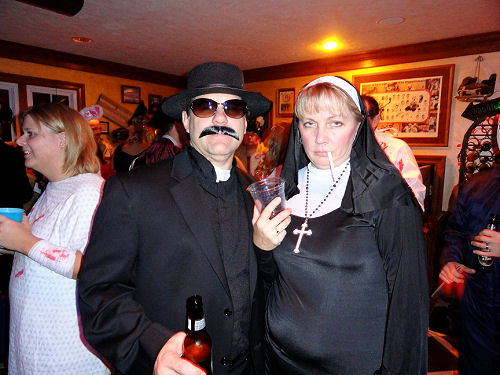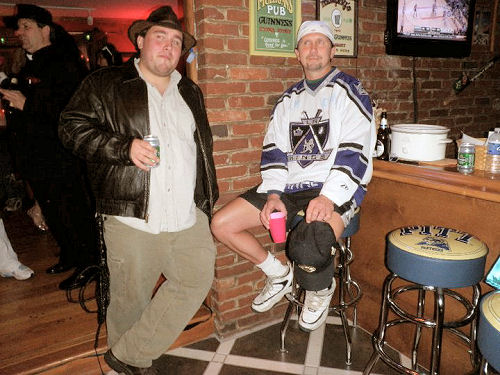 Father Guido Sarducchi & Lady Friend Indiana Jones & Alexander Frolov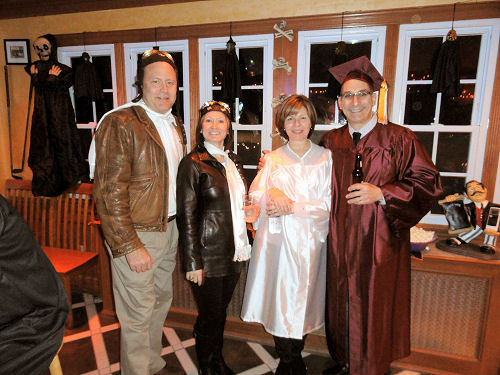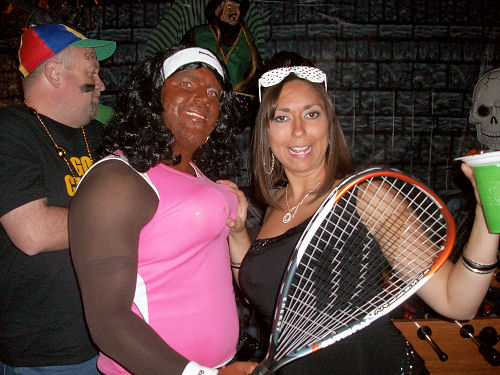 Old time Pilots & Graduates Serena Williams & Snookie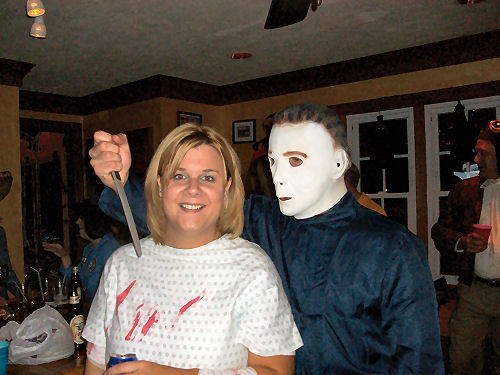 Jello Shot Victim & Michael Meyers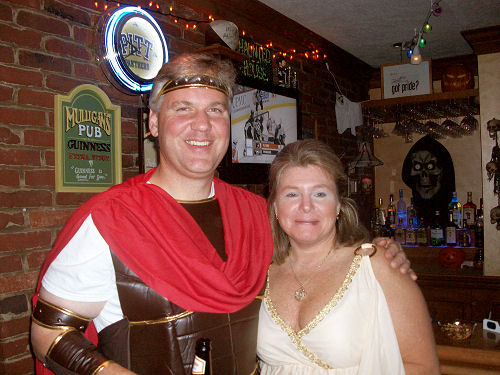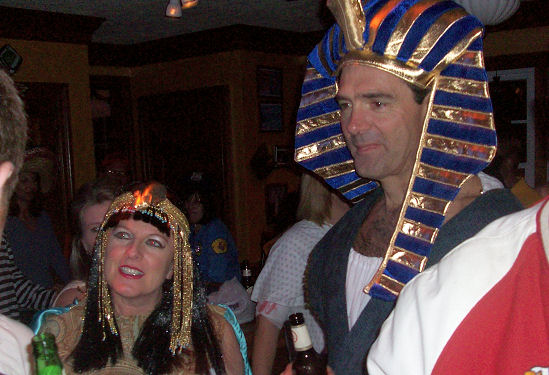 The Romans <-Tension?-> The Egyptians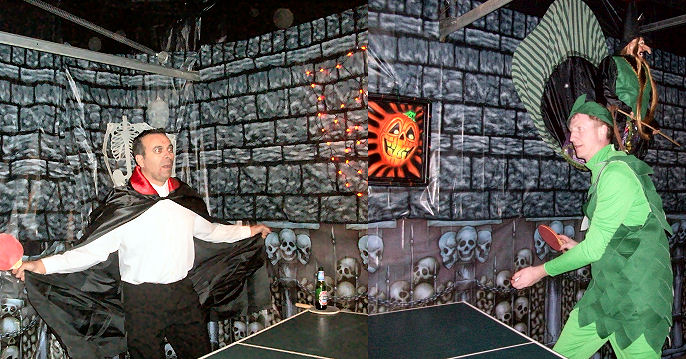 Dracula vs. the Green Giant @ Beer Pong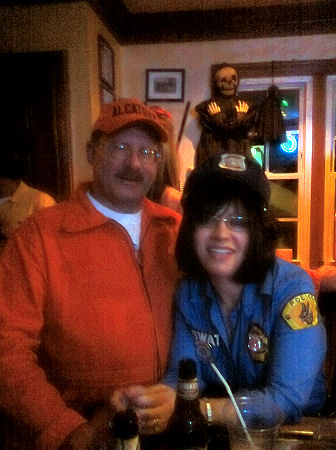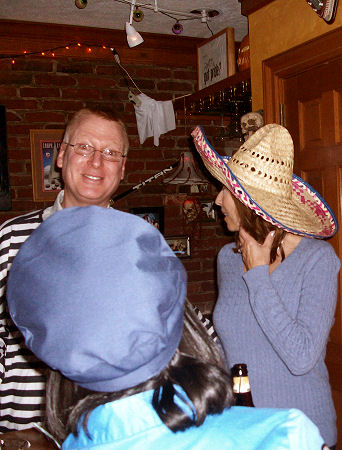 A prison guard who fell in love with a convict? Inmate & a Mexican hat dancer? (my fault)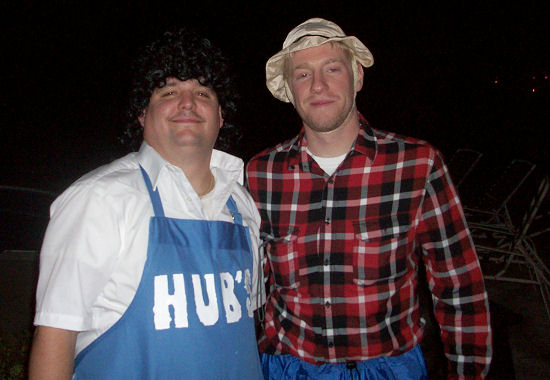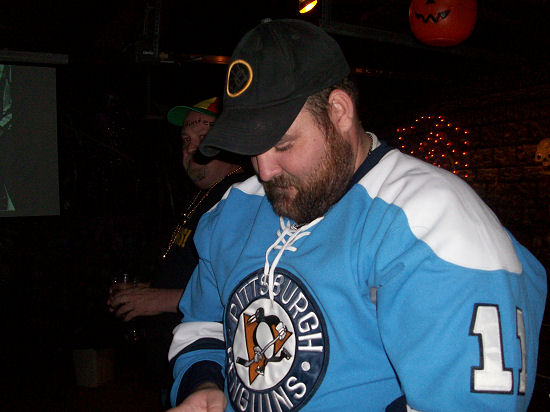 Hub's Employee (SNL) & Guy riding duck (again) Jordan Staal w/Crutches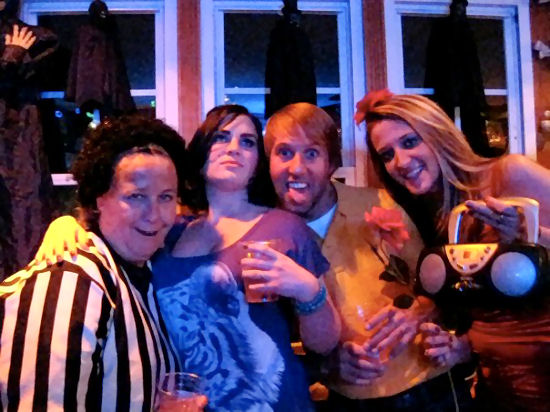 The Crew from Always Sunny in Philadelphia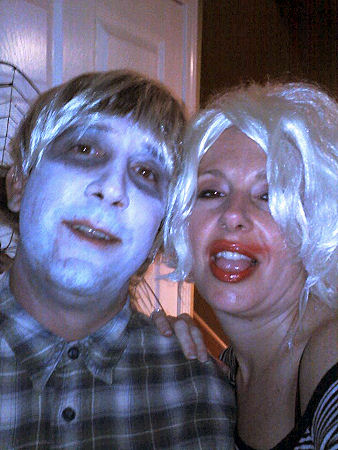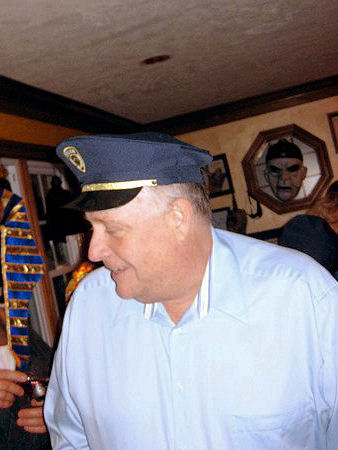 Curt Cobain & Courtney Love That cop that showed up late night a few parties ago?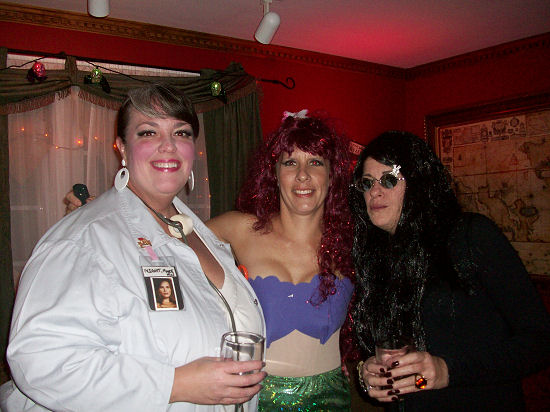 Nurse Nightmare, Little Mermaid & Ozzy Osbourne (I thought she was Janis Joplin all night)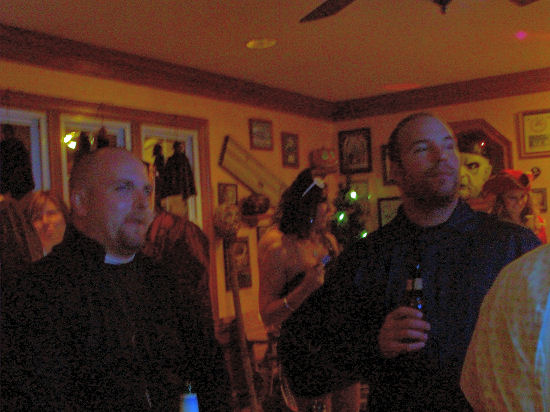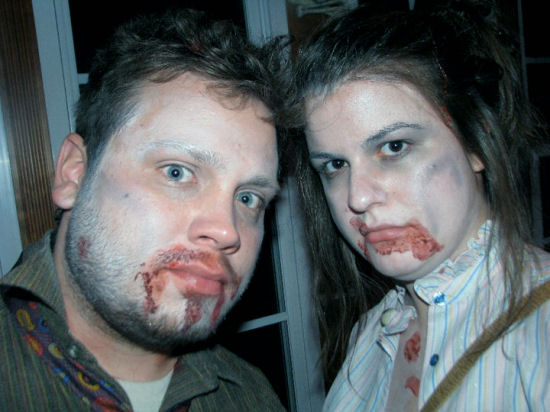 Father James and Michael Myers (again) unmasked Zombies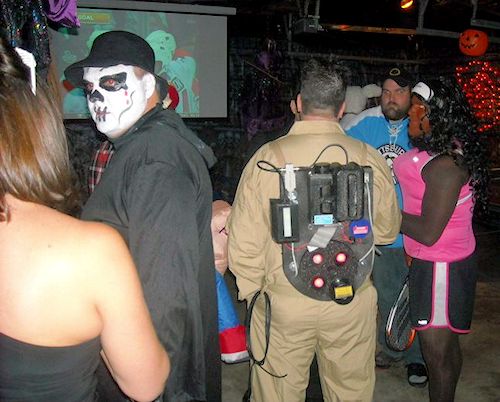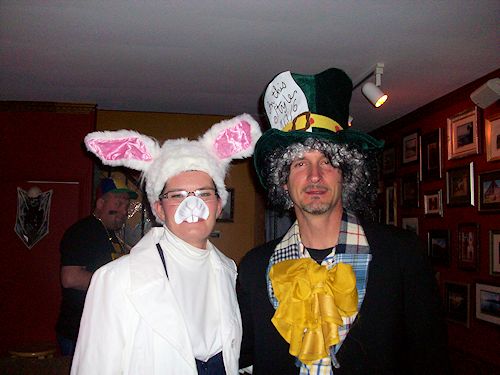 Rorschach (left) Rabbit & Mad Hatter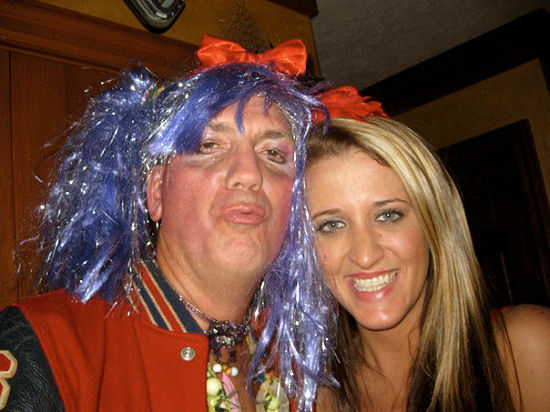 I'm clueless on who he/she was maybe 'Mickey'?? & Desert Rose (again)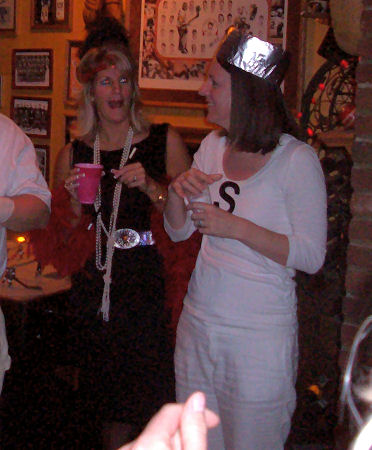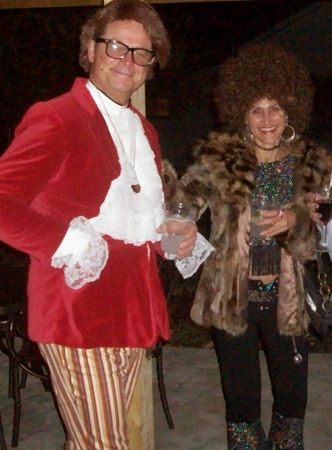 Flapper (again) & Salt (Still looking for a pic of pepper) Austin Powers & Foxxy Cleopatra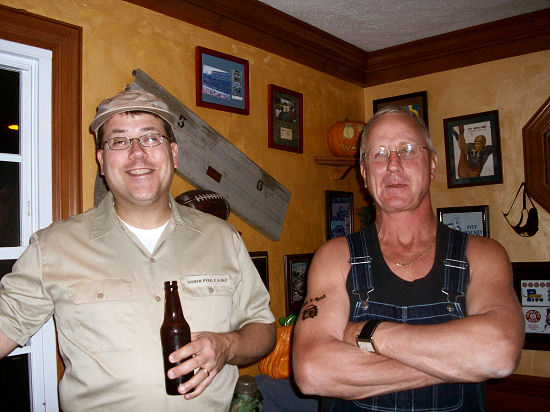 the Gomer Pyle & Mike Holmes (Holmes on Homes)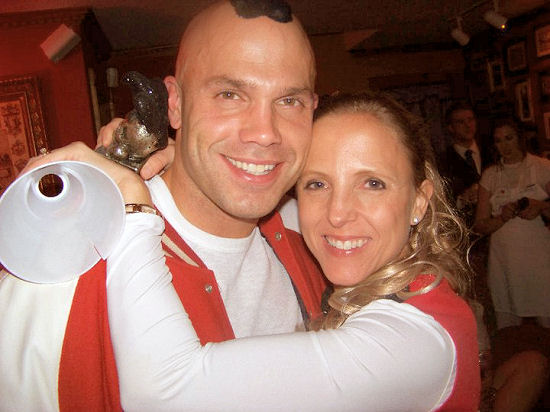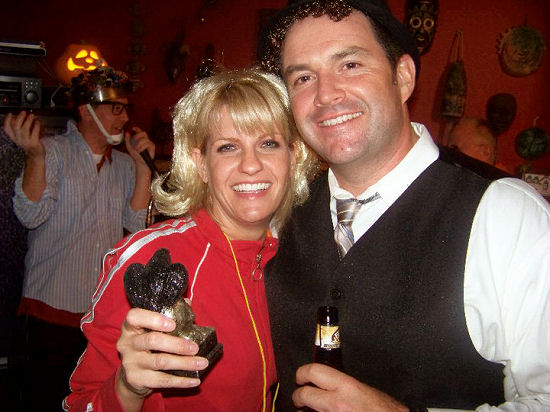 Glee - Noah "Puck" Puckerman & Brittany Pierce Glee - Sue Sylvester & Will Schuester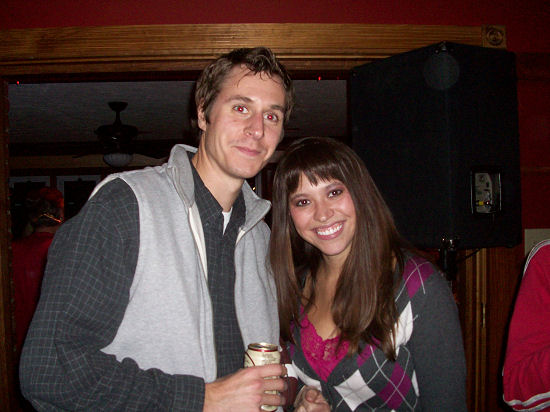 Glee - Finn Hudson & Rachel Berry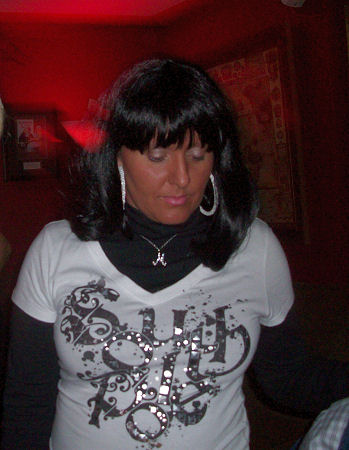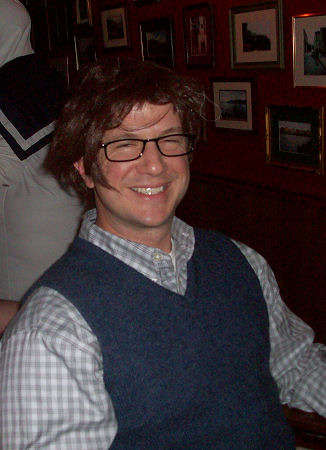 Glee - Mercedes Jones & Arty Abrams
Costume pictures we are missing: 2 Boyscouts, a Pepper shaker, a princess and a whole bunch more
if you have any please please please send them to Ghost@HalloweenPartyZone.com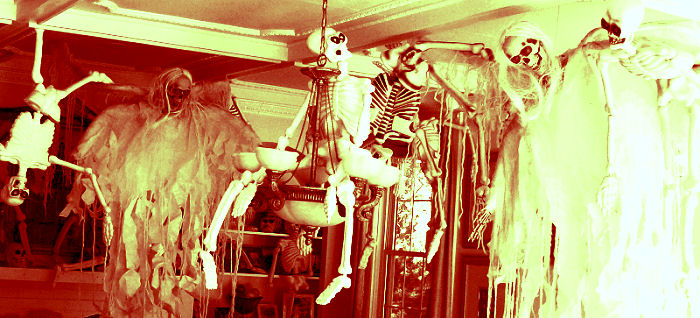 The Party Pics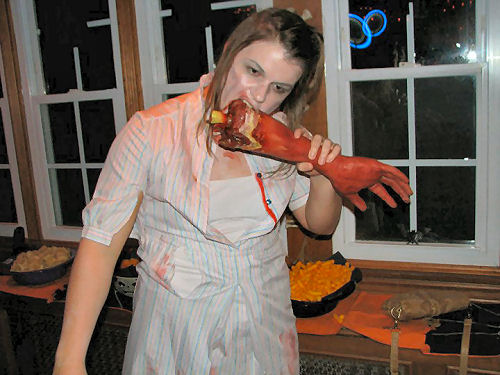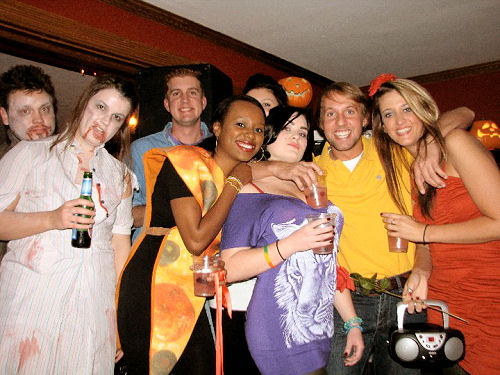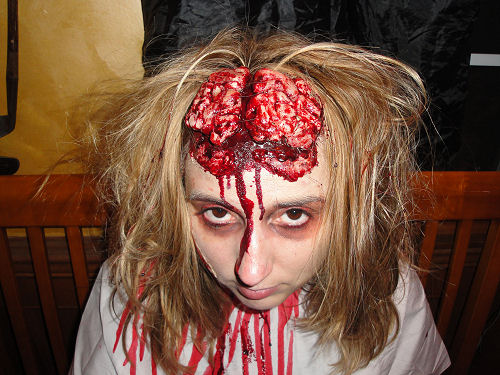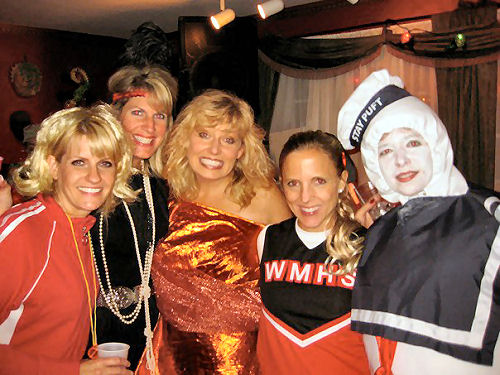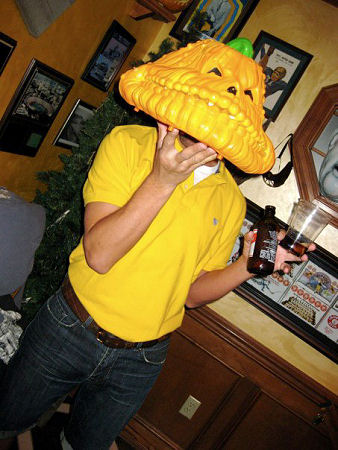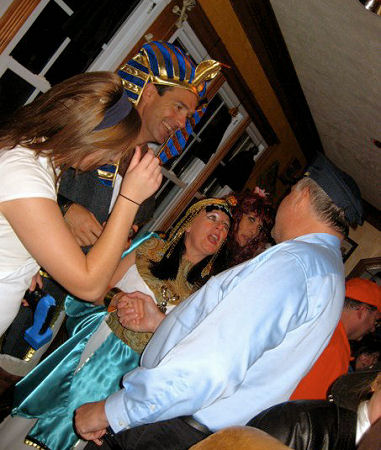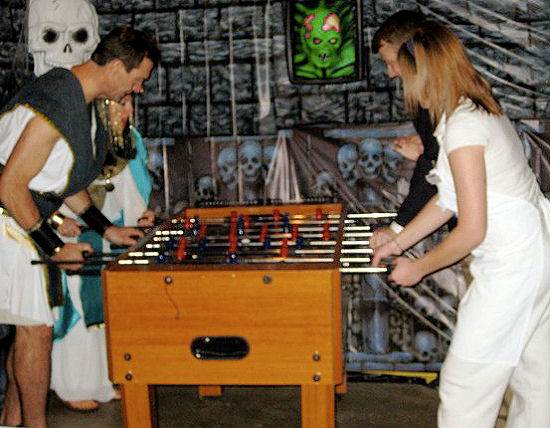 Not many people know this, but the great Egyptian kingdom was lost to insurance fraud.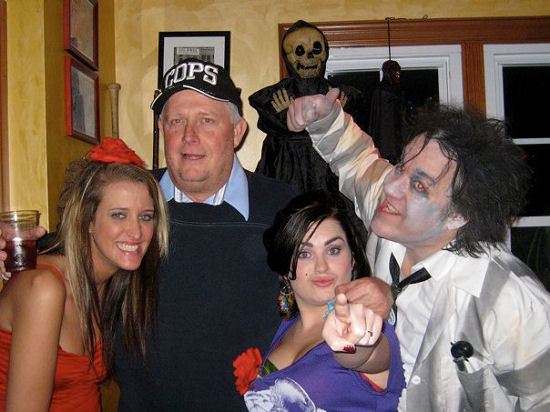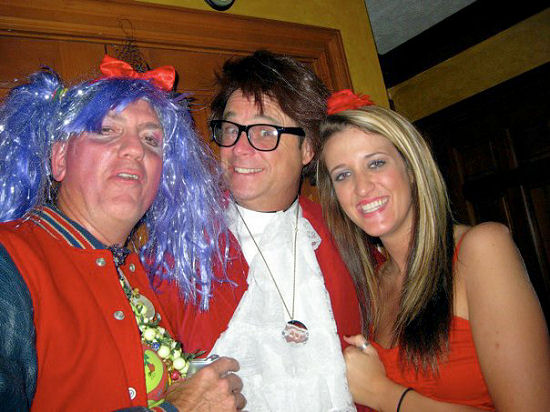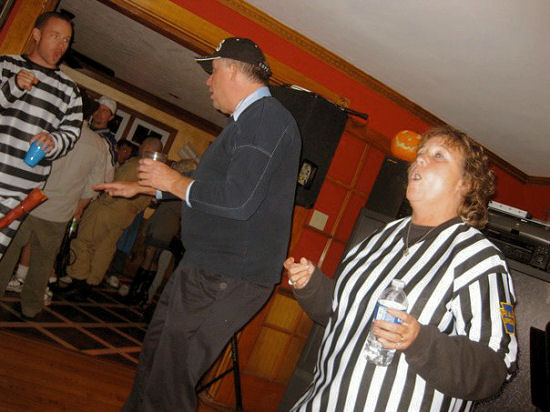 They were dancing and singing and groovin' to the music...Is that Horse bustin a move?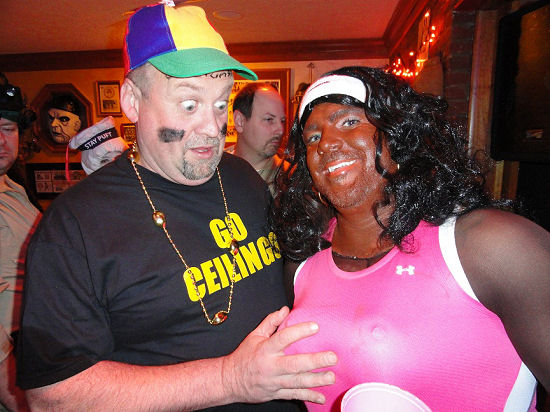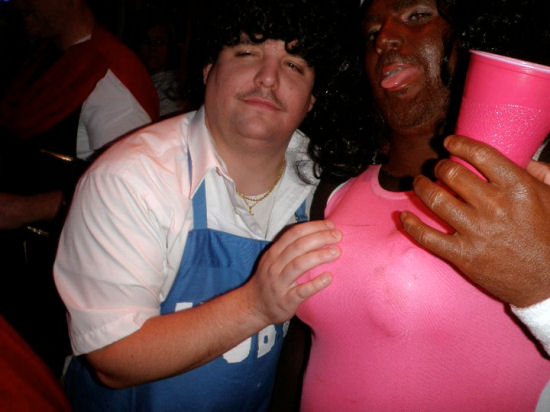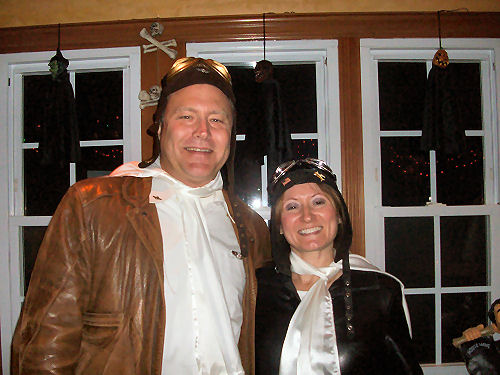 Still not sure these qualify as costumes!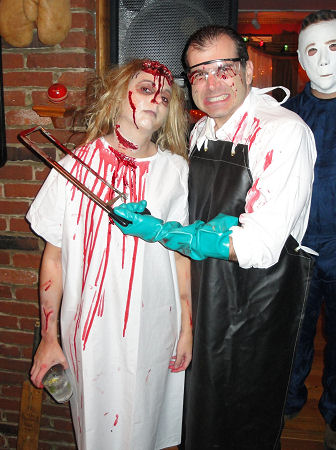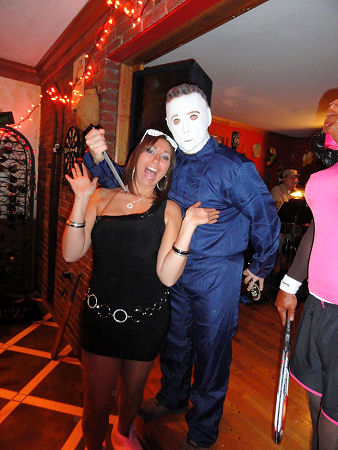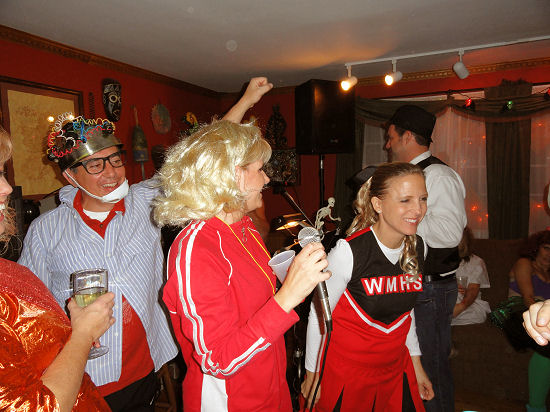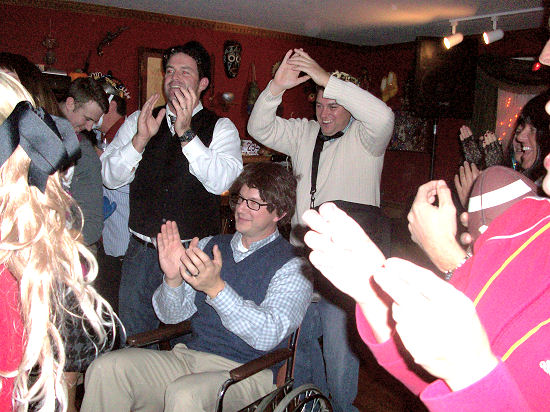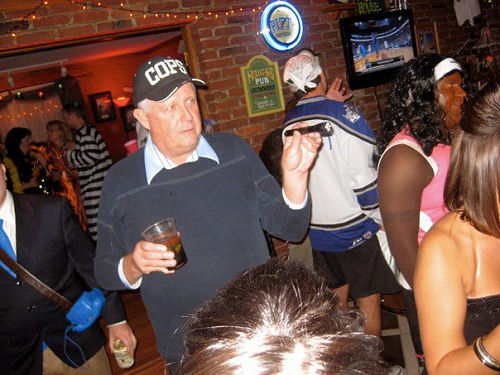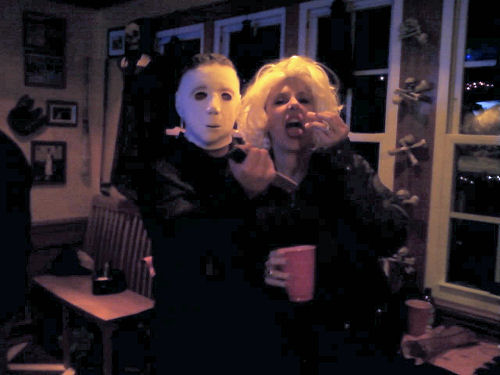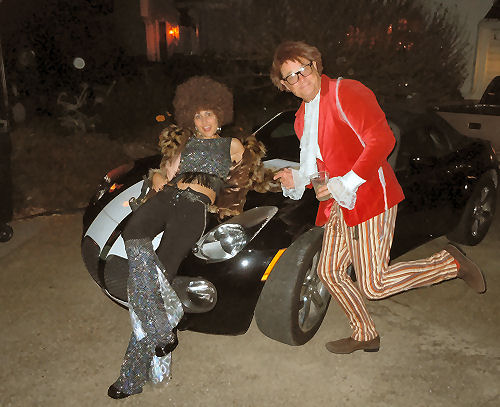 Cheeky. This explains the scratches on the car!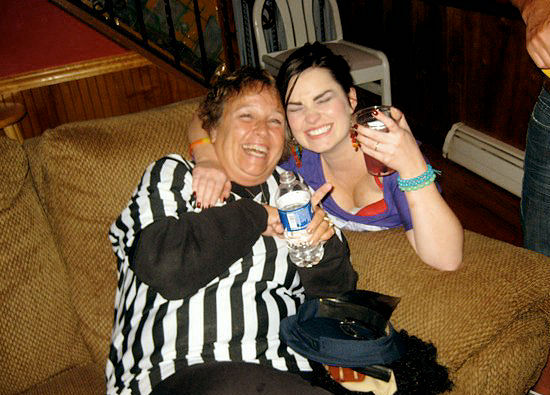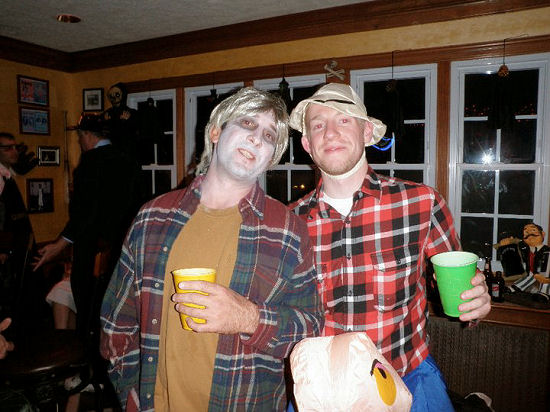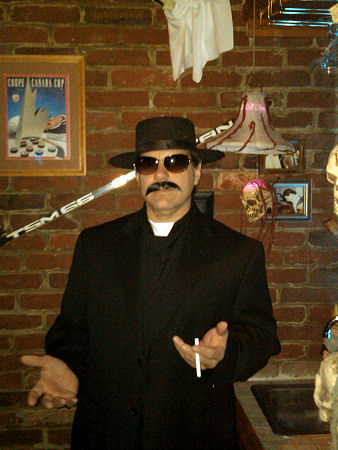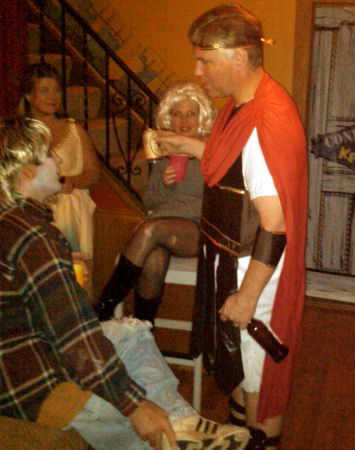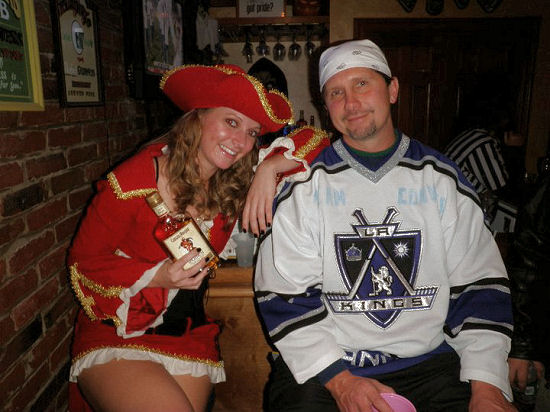 There is a really good story here, believe me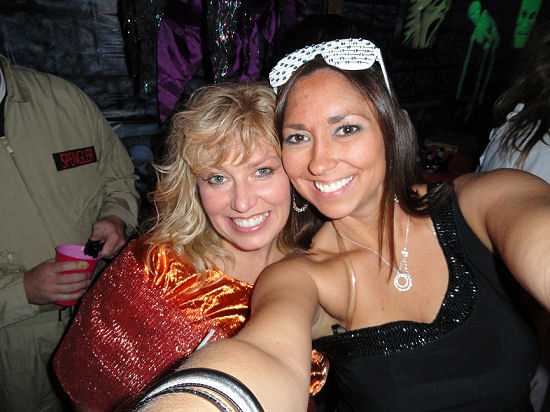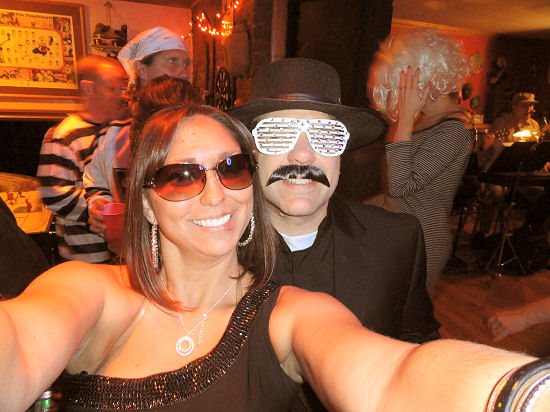 Get your picture taken with Snookie
The 2010 U-toob video:

No more whamsy pansy scares next year.
We have a whole new plan!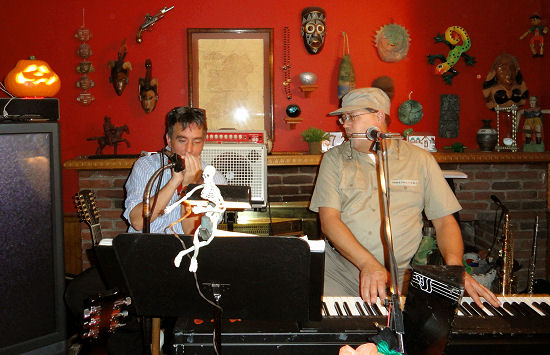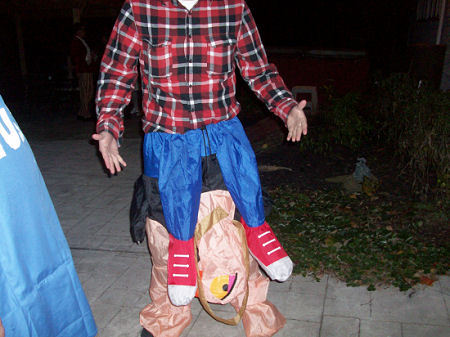 The Turkey this guy was riding got killed a month to early!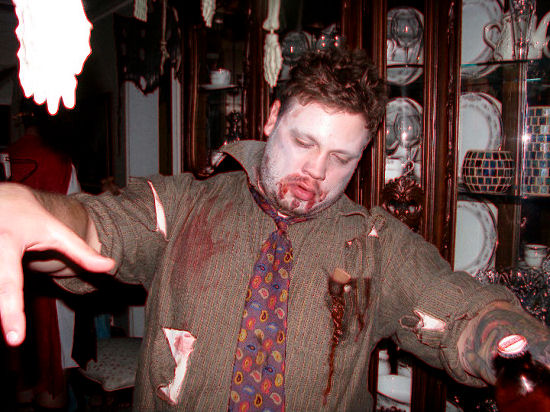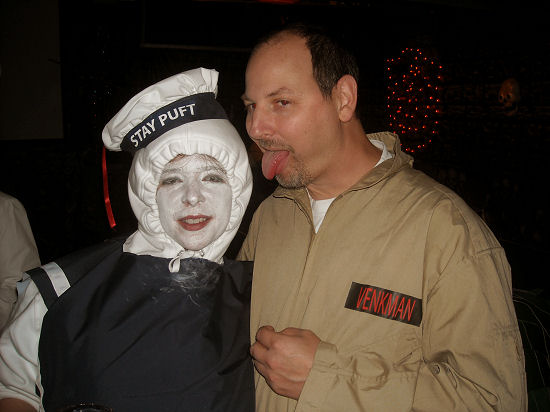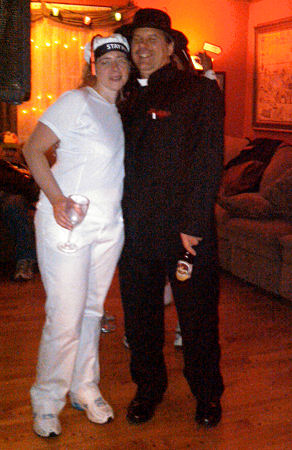 Hey!!! I'm your brother for cryin' out loud! That's it. I'm calling mom.


Mom's not answering??? Where the heck is she???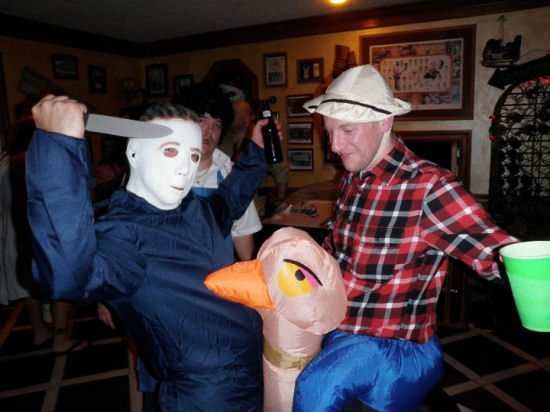 We found out who killed the goose.
More Awards!
The Extra Effort awards
Ceiling Fan and Father James fanning the flames
they proved that it's the effort, not the result that counts.
Yeah, the fire would have kept going if they just put the paper plates in there.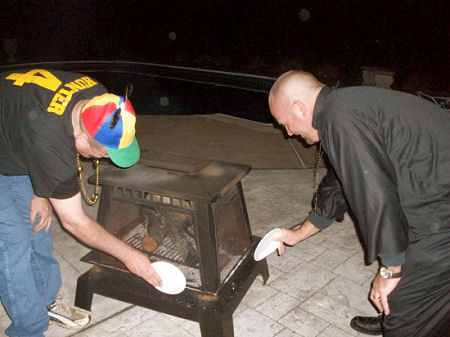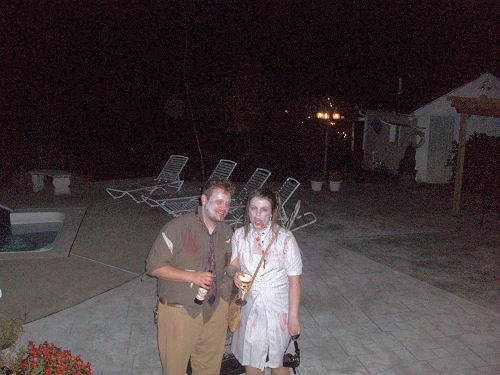 The other EE award goes to the Zombies.
When my sister tried to get everyone outside for the group picture they were the only ones who went.
(so this is the 2010 group picture also)
The FFBTA (Fastest Finish Broken Tombstone award)
this year goes to: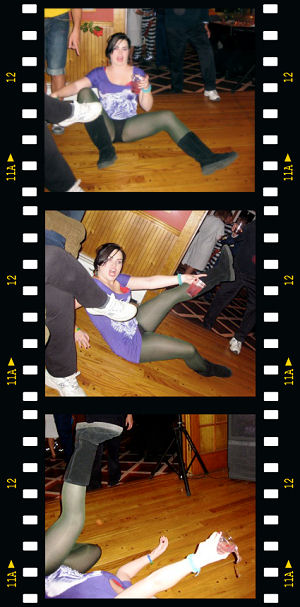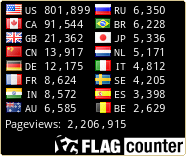 Thanks again to Kim for letting me do all this crap!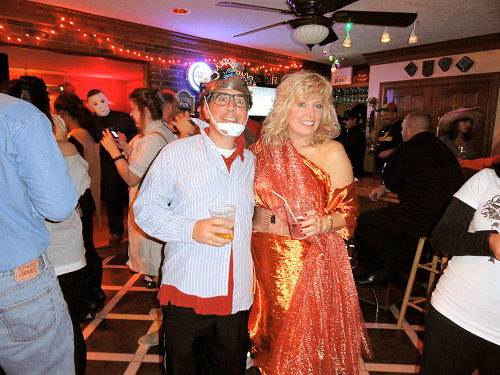 Hope yins guys all had fun n'at!
See ya next year!