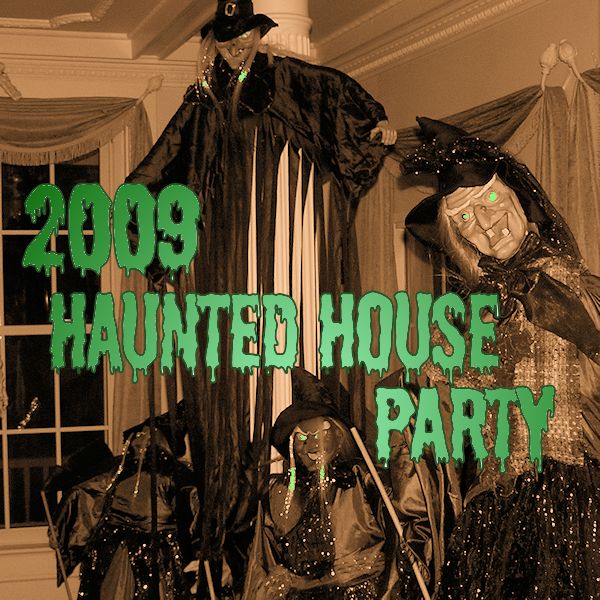 The Thank You's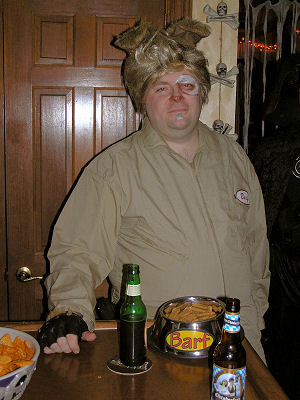 The biggest thanks this year once again goes to Barf - Frankie (I think he did more than me again)
he actually took off work Thursday and Friday to help - plus was here Monday through Wednesday night
if it wasn't for him, we would have never been ready on time!
to Bill for lending me a bunch of Halloween items
He couldn't make it because he had H1N1 (thank you for not coming!)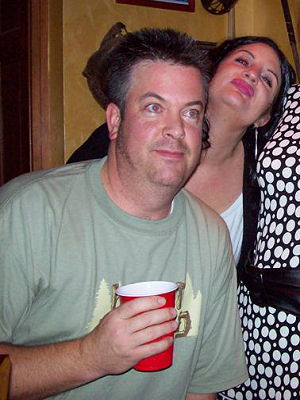 also to Ed (Doug) for video setup and the famous keg run
one year I bet he'll remember to get the tap also!




A BIG thank you to Tammy, Renee, Suzie, Mathew & Frankie for sending pictures.
and Lauren, Michaelene and Kelsie for unwittingly letting me grab your photos from FaceBook.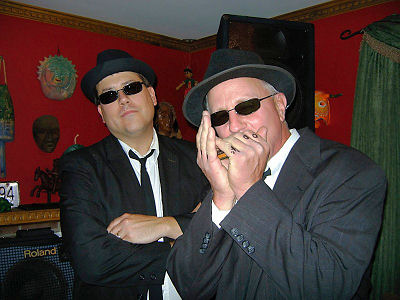 Another thank you goes to the Blues Brothers band (Tim & John)
Great to have you back!
Their web page: Tim & John
or e-mail Tim to get show information: SaxManTim@Verizon.net

Best Costume - Academy Award (as voted by the Academy)
Pittsburgh Pierogies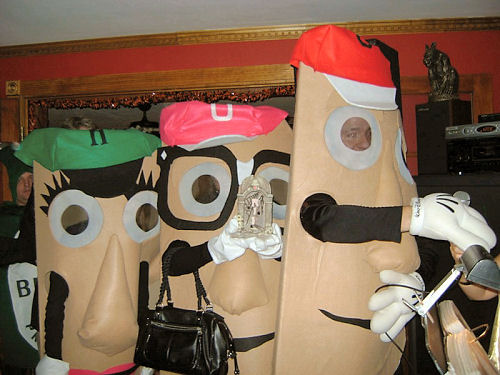 Jalapeņo Hannah, Oliver Onion, Sauerkraut Saul
Also voted for as Pyrogy Racers, Perogies and many other names
when they came in they raced around the pool
(isn't it nice of Oliver to hold Jalapeņo's purse?)
Best Costume - People's Choice Award (you guys voted for them)
Beauty and the Beast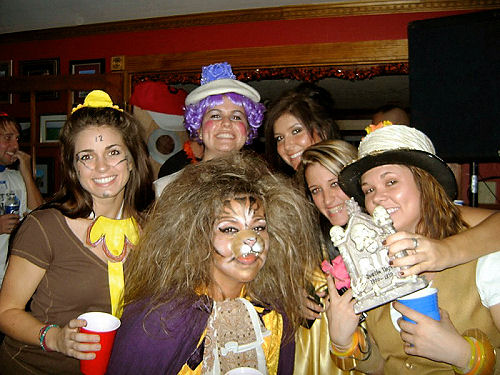 We found someone tried to stuff the ballot box for B&tB. We threw those 6 fake votes out,
and they still managed to win popular vote.
rumor has it that it was the "gray" Octopus Mom but I'm not telling

Funniest Costume - Peoples Choice Award (you guys voted for them)
Space Balls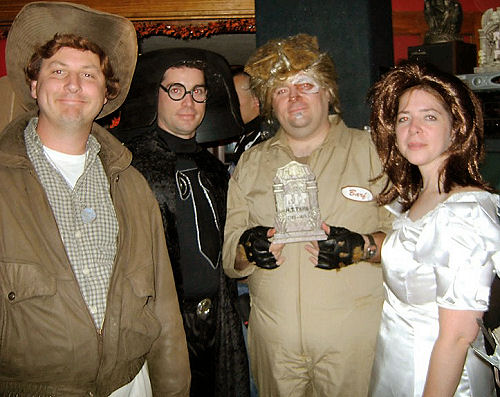 Lone Starr had his Swartz ring, Dark Helmet had the drop down face mask,
Barf had remote control ears that popped up, a tail and a food bowl, the Princess had her earmuffs.
fantastic!
The 2009 HHP Lifetime Achievement Award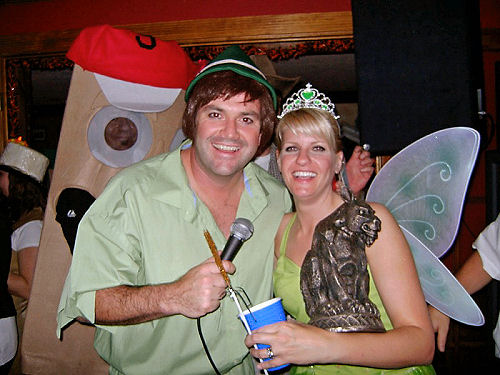 Pat & Renee
Pat & Renee have missed only one out of all ten HHP's,
and that was because they drank too much the night before (believe me I watched them do it)
They are the proud owners of an Academy Award, 2 Best Costume Peoples Choice Awards,
and a Funniest Costume Peoples Choice Award.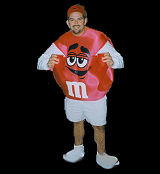 Click on the M&M above to watch their presentation video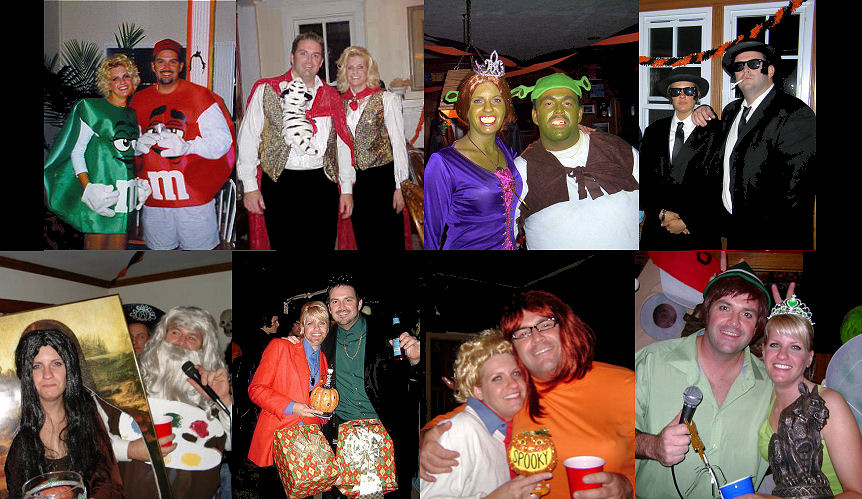 The JIHMA's
(Johnny's Internet Honorable Mention Awards)
(Pronounced Jeema)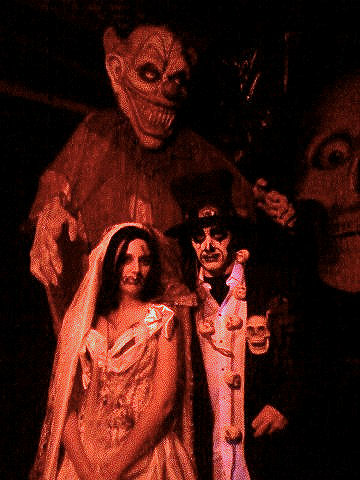 Voodoo Priest & Corpse Bride finished second in best costume voting.
Dr. Voodoo claimed that no-one would talk to them all night. I wonder why.

Phil McKrackin
Normally I don't hand out JiHMA's to someone who just
throw's on a T-shirt & comes to our party
butt he did finish second in funniest costume votes.


Scary Tattoo Guy
I don't know if this was supposed to be a character from a
show or not, but anyone who takes the time to glue
on a face... gets a Jihma in my book.
Lot's of incredible costumes this year and only so many awards to go around!

I have noticed a few ways to get more votes:
1. Make your costume something that people know and can spell
2. Make sure to be seen
3. Get in a big group and have everyone in the group vote for you.
4. If they all fail: beg, plead and fix the vote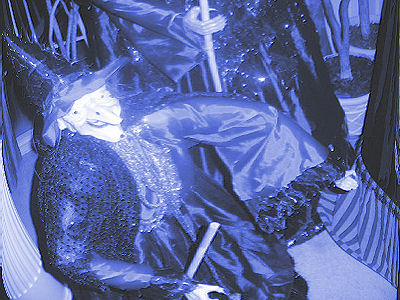 Costumes
and my guesses as to what they are.
Once again I think were missing pictures of costumes!
a big thanks to Tammy for making most everyone pose for a picture!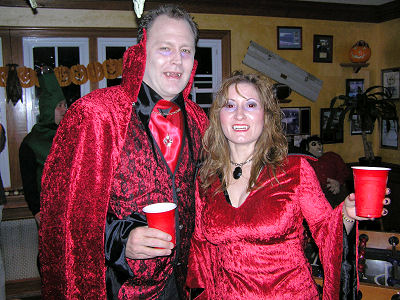 Vampires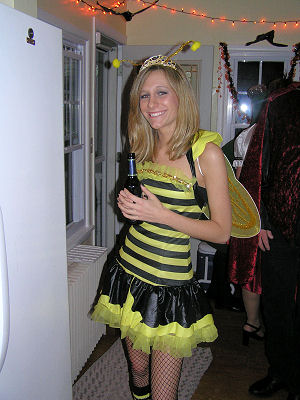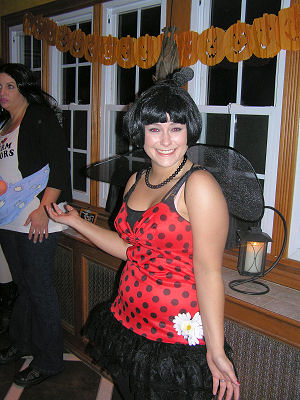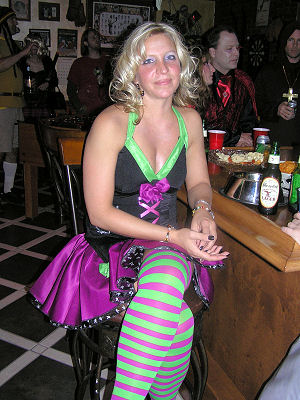 Bumble Bee Lady Bug Sparkle Witch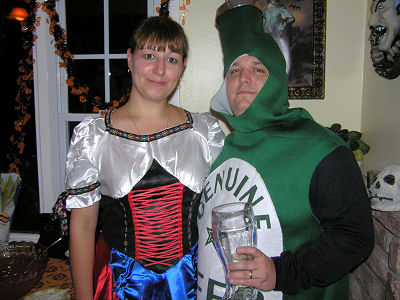 Beer Maid & Beer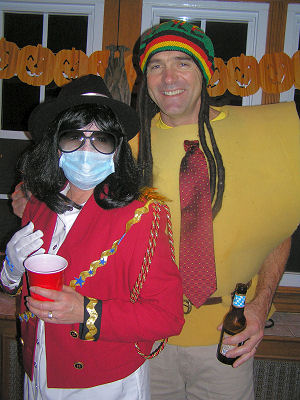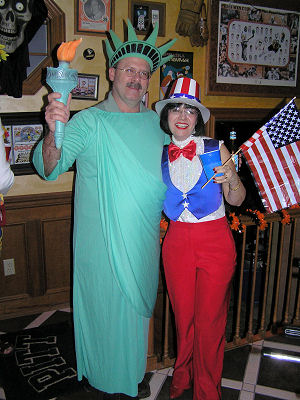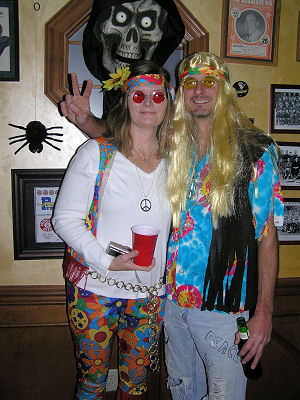 Michael Jackson & Sponge Bob Marley Lady Liberty & Uncle Sam Hippies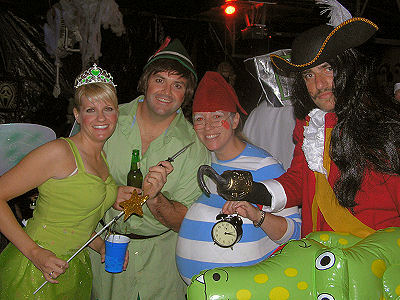 Tinker Bell, Peter Pan, Smee & Captain James Hook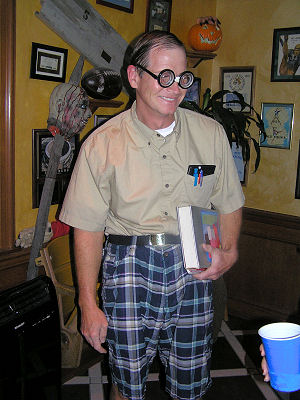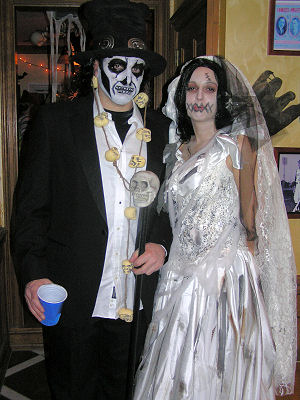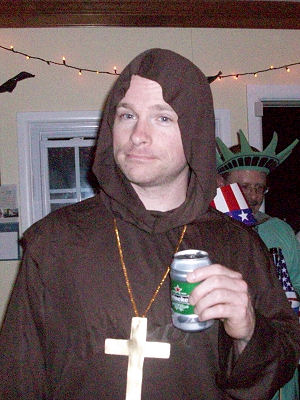 Nerd Voodoo Priest & Corpse Bride Monk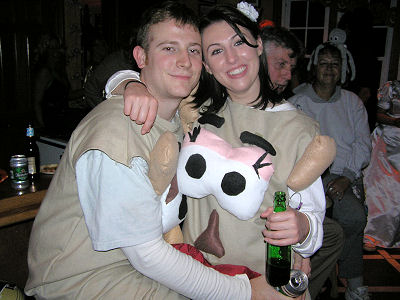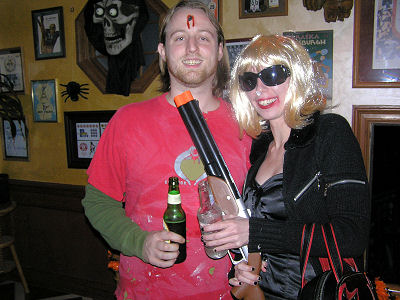 Mr. & Mrs. Potato Head Kurt Cobain & Courtney Love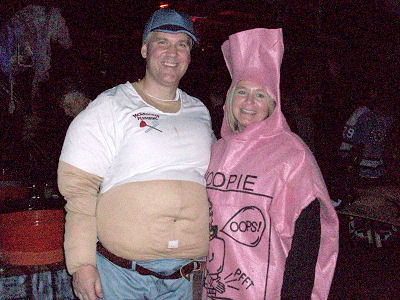 Phil McKrackin & Whoopie Cushion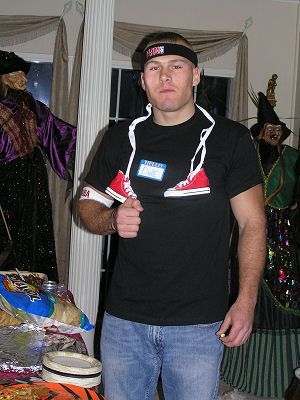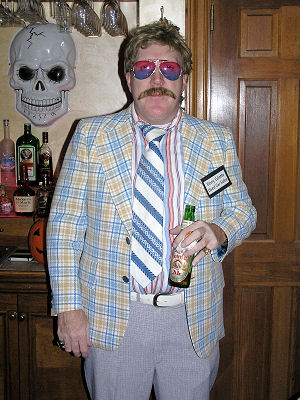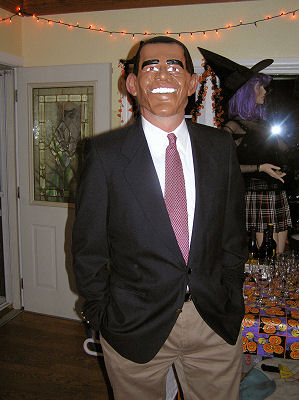 Dale Doback Vinny Culotta Barack Hussein Obama II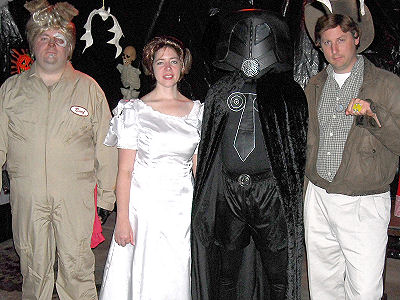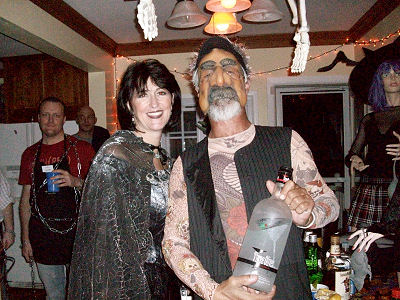 Barf, Princess Vespa, Dark Helmet & Captain Lone Starr Spider Woman & Tattoo Guy?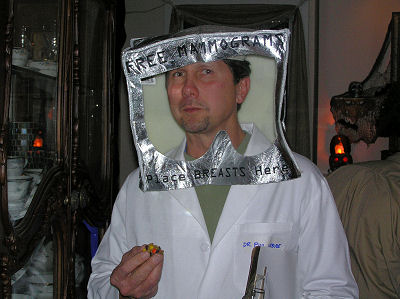 Free Mammograms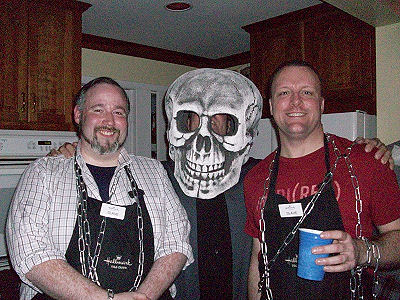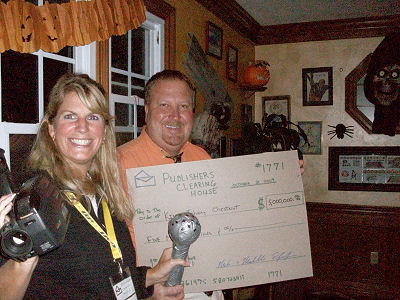 Slaves to Hallmark & Grim Reaper Publisher Clearing House prize patrol w/ Ed McMahon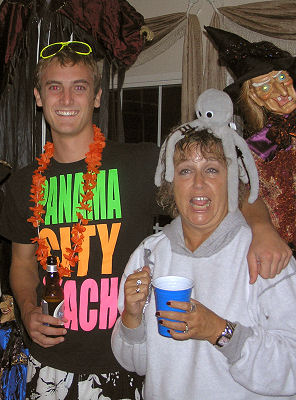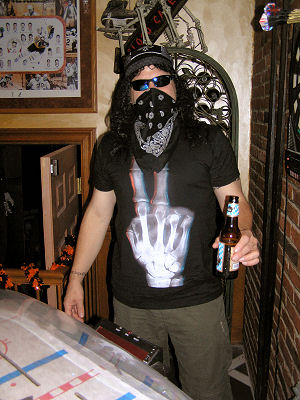 Surfer Dude & Octopus Mom g20 Protester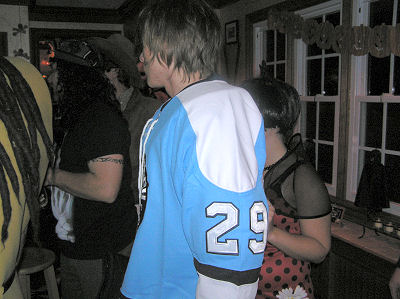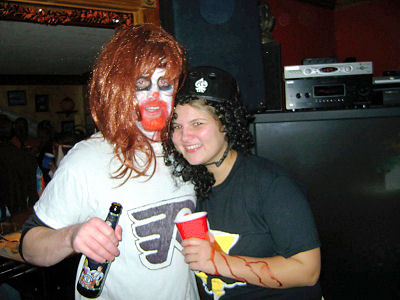 Marc-Andre Fleury Heinous Hartnell & Once Bitten Letang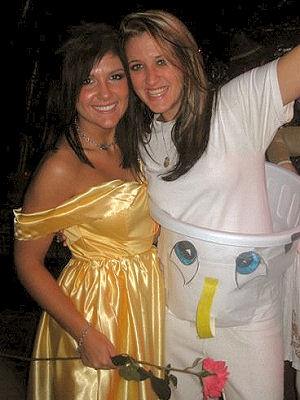 Beauty & Chip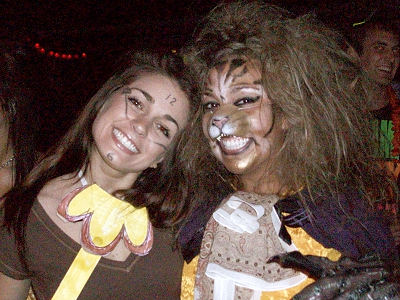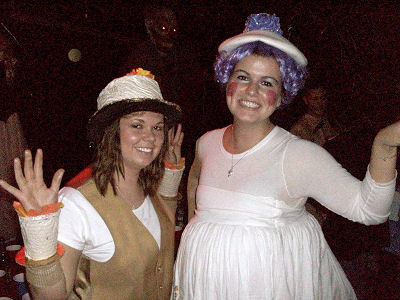 Cogsworth, Beast, Lumiere & Mrs. Potts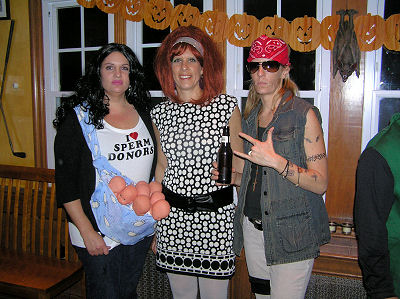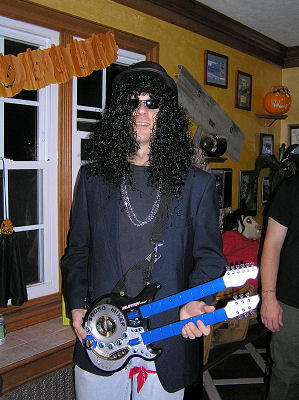 Octo Mom, Catherine Elizabeth Pierson, William Bruce Bailey & Saul Hudson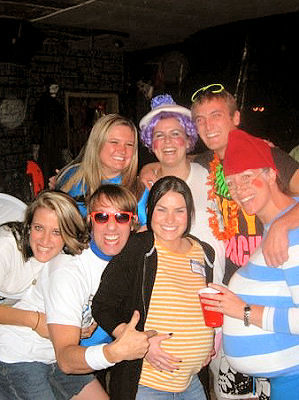 Blue M&M, Brennan Huff & Juno
The Party Pics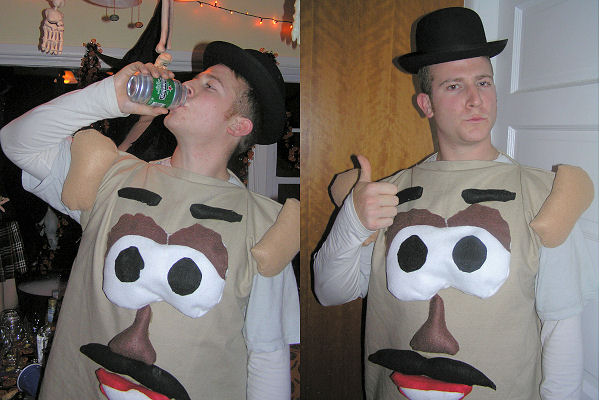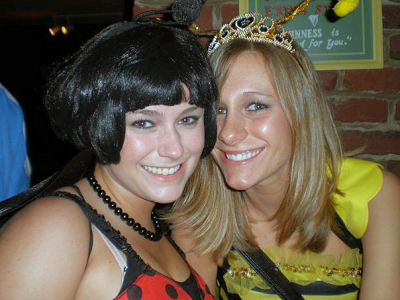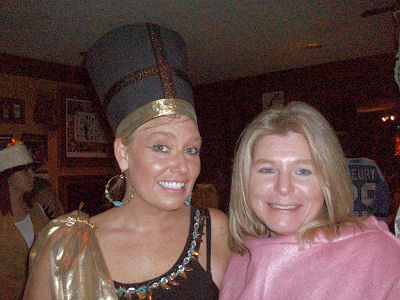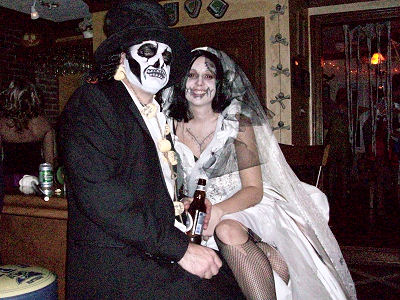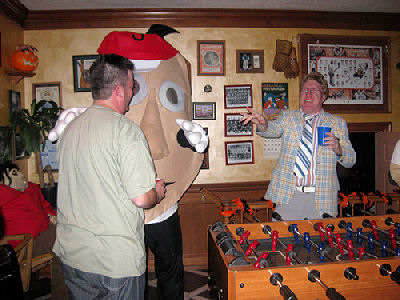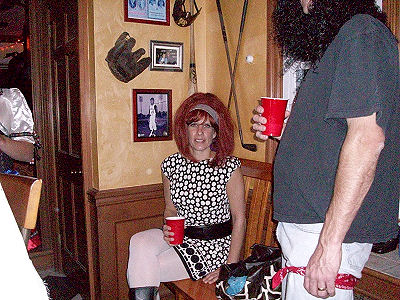 Nobody puts Katy in the corner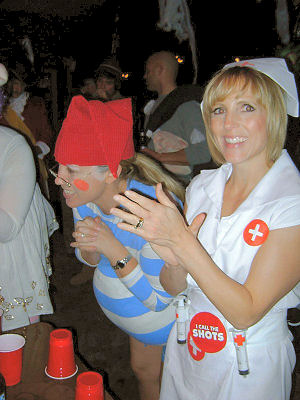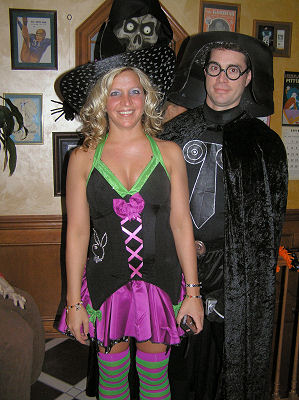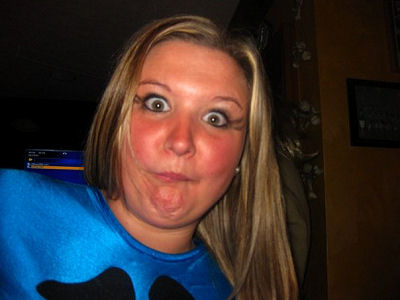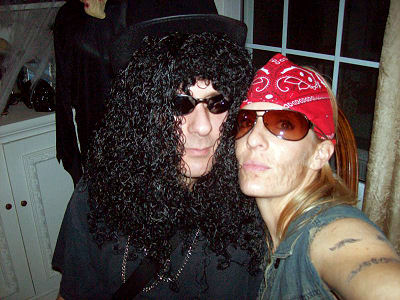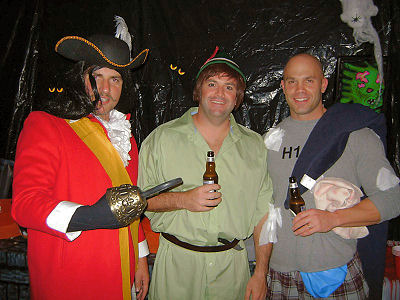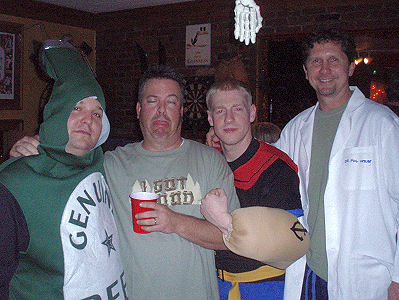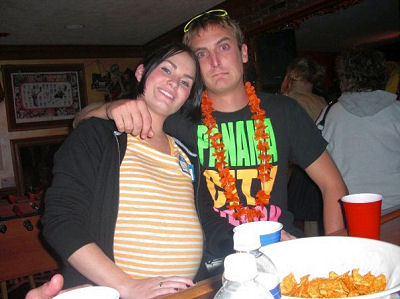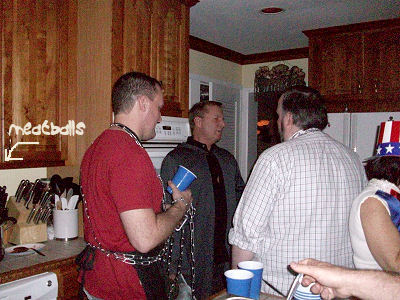 Plotting to take over the meatballs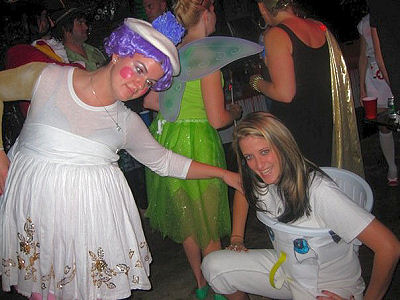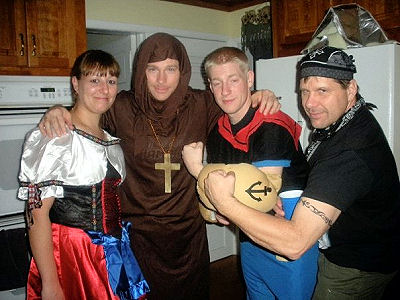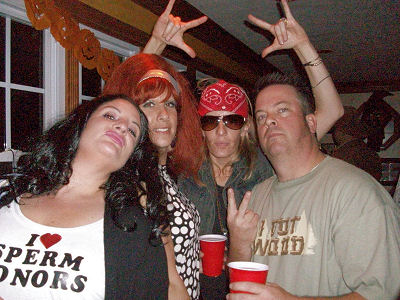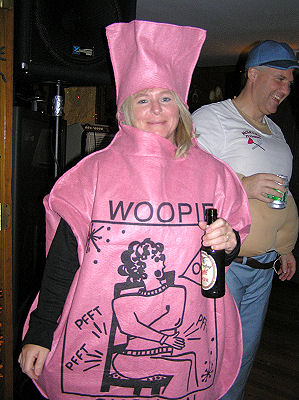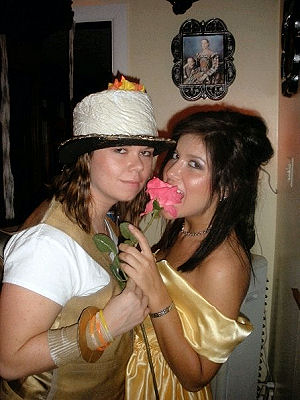 Sing-a-long with Jake & Elwood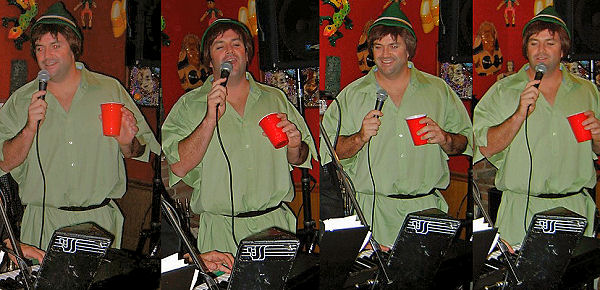 Take him home... to the place... where he belongs....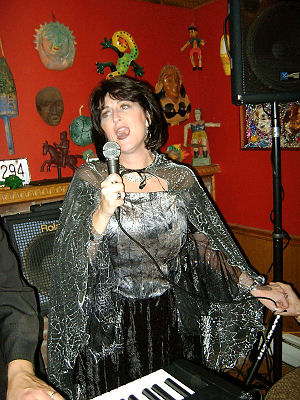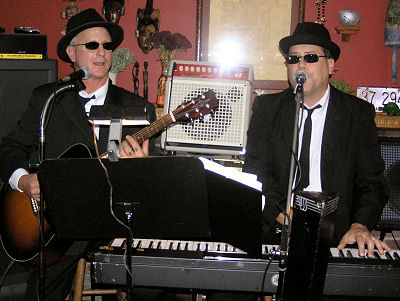 Sing-a-long without Jake & Elwood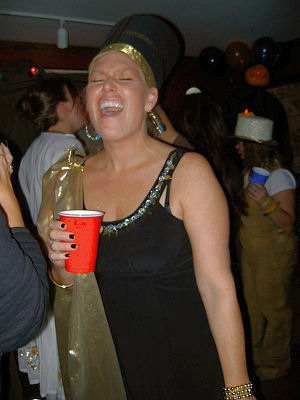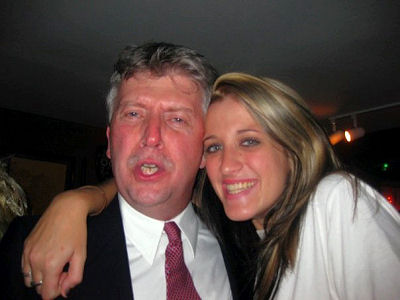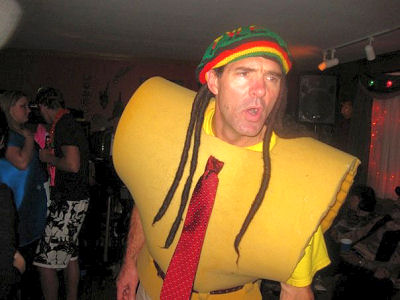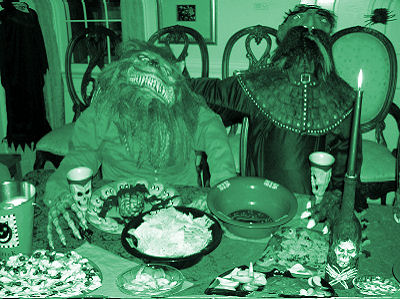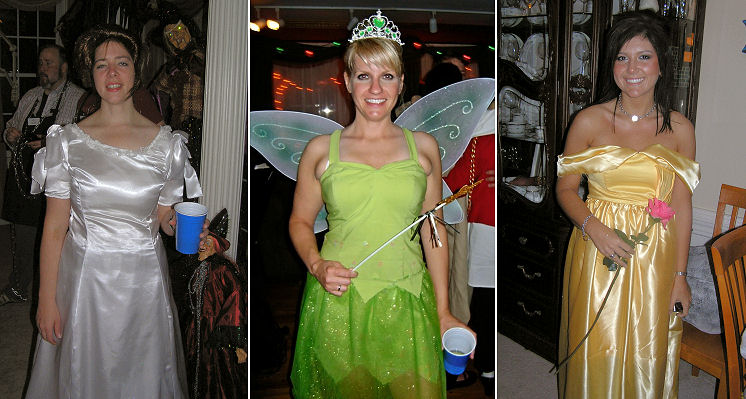 Belles of the Ball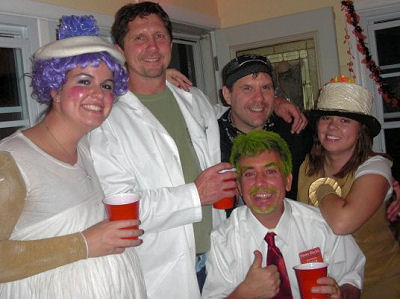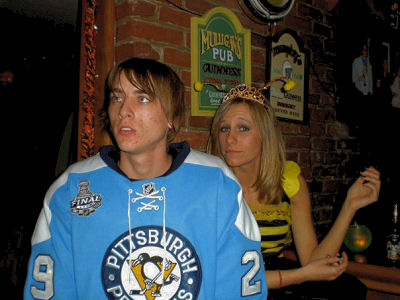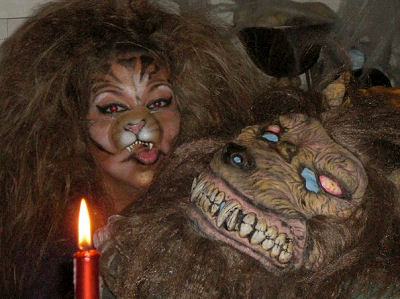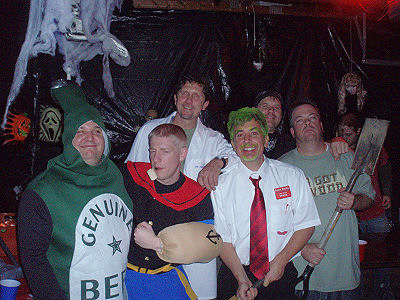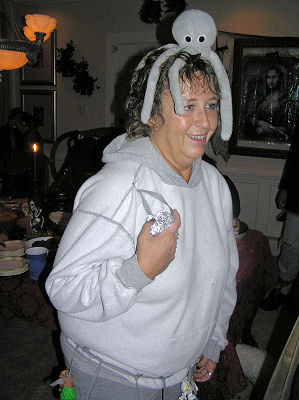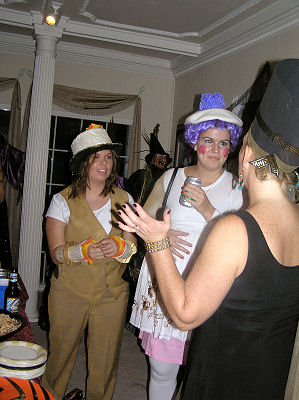 The 2009 U-toob video:

We had our plan. A skull was going to pop out of the ground and scare everyone.
It was that simple, until it rained the day before and our remote didn't work.
Luckily Kim had her book club meeting at our house a week after the Haunted House Party.
So we brought out the garbage can from last year and filmed the book club.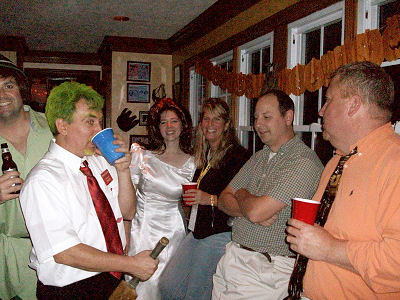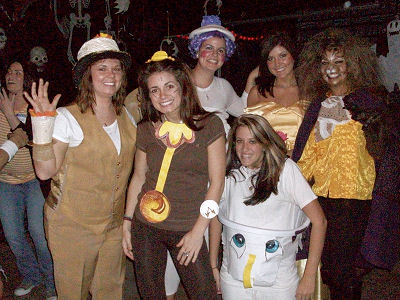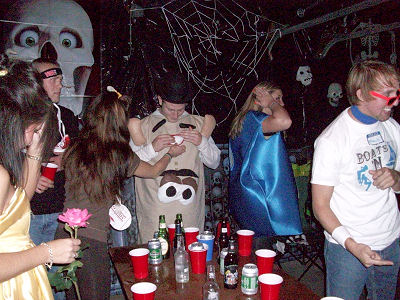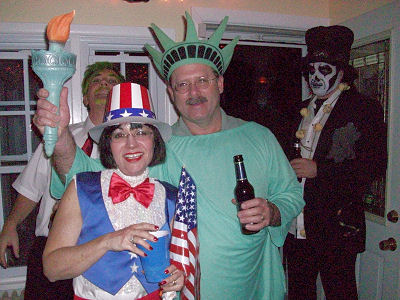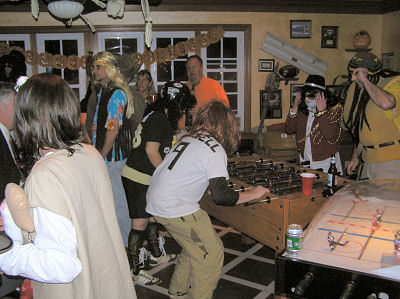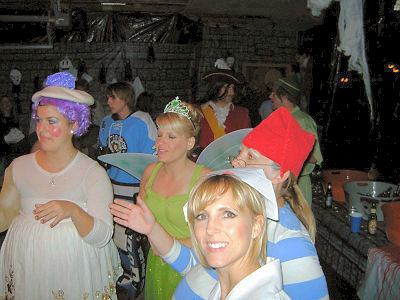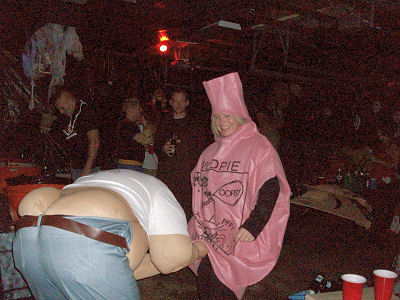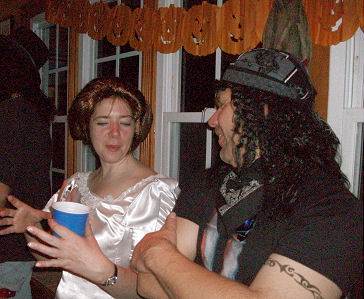 I'm telling ya, his arse was this big!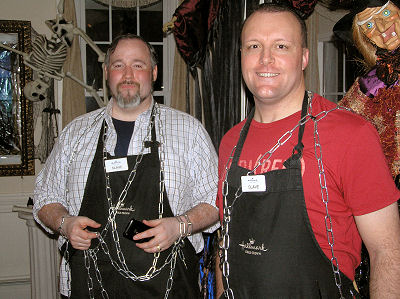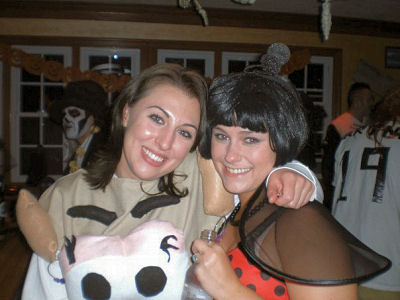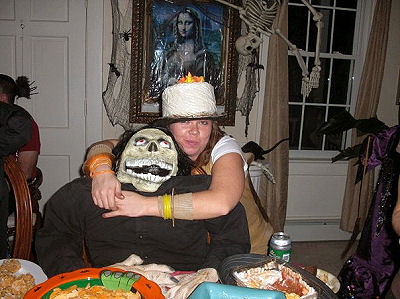 Hows are you doins (hiccup) big fella?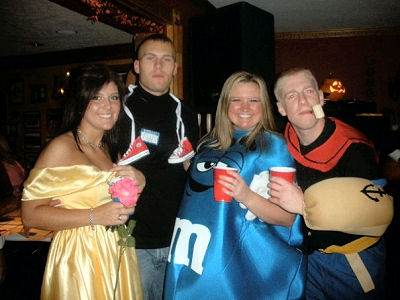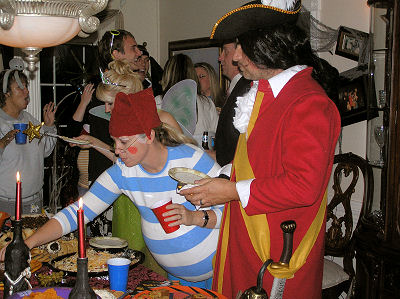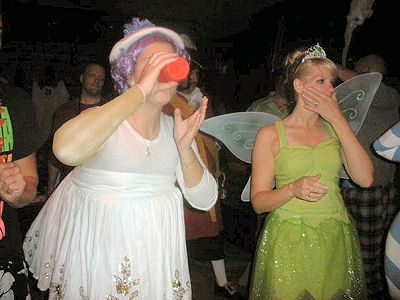 Is this Mrs. Potts & Tinker Belle in a chugging contest?
Ah... those crazy Disney characters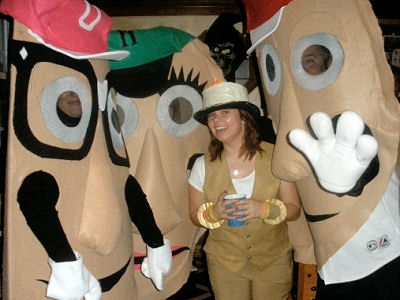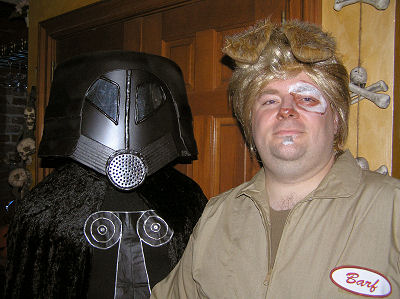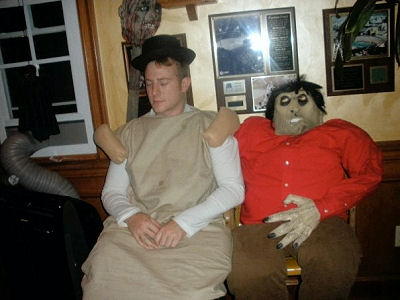 I may have lost face this evening, but it was worth it.
More Awards!
The Extra Effort awards
Giant head grim reaper for managing to not let anyone
know who he was for over an hour all the while not eating
all of our meatballs!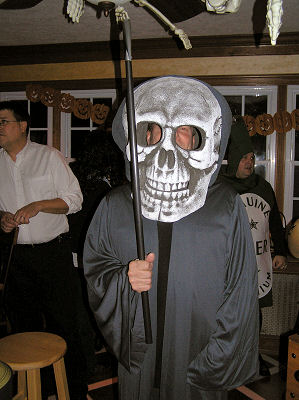 The other EE award goes to Popeye for bring a bucket of 200 some
golf balls... I think I found everyone within 50ft
of where we were all driving them from.

There is no FFBTA award this year (which is a good thing)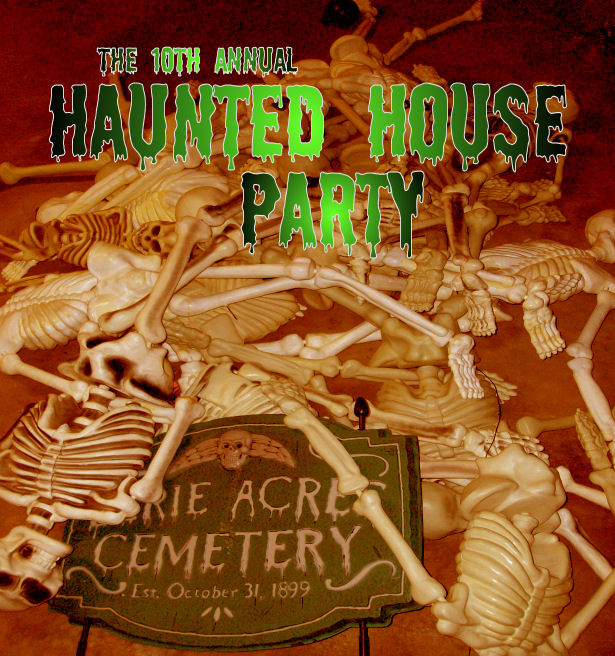 The invite (if you were lucky enough to get one) :)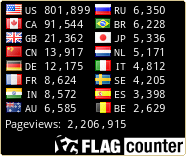 Thanks again to Kim (the one on the left) for letting me do all this crap!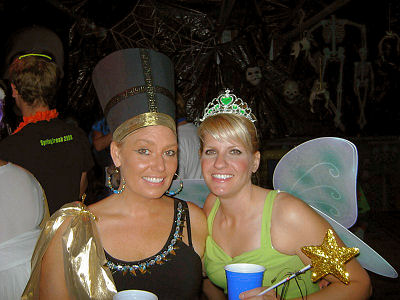 Hope yins guys all had fun n'at!
See ya next year!