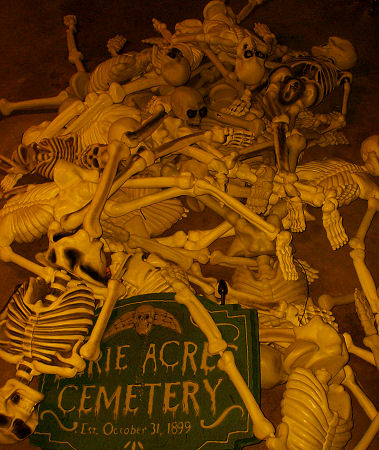 Haunted House Party 2008
Halloween Home Page
If you have any pictures please send them to Ghost@HalloweenPartyZone.com
We are very short on pictures this year!
The Thank You's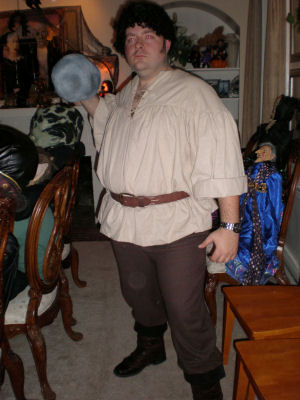 The biggest thanks this year once again goes to Frankie (I think he did more than me again)
he actually took off work two days to help - if it wasn't for him, we would have never been ready on time!
to Bill for lending me a bunch of Halloween items
He couldn't make it because of babysitting problems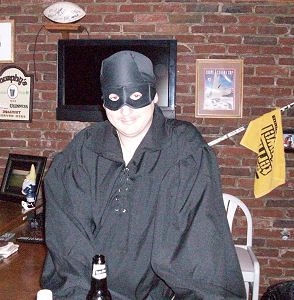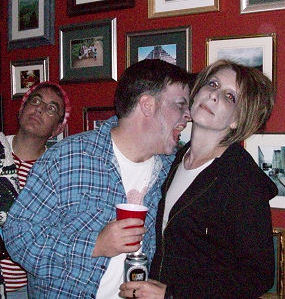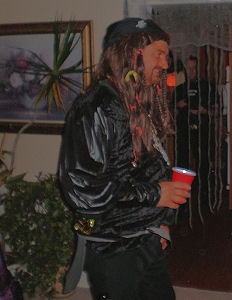 to Zorro Joey (left) for helping set up the garage
to Vampire Doug (center) for video & front room setup
And to Jack Sparrow Ron (right) for cemetery setup and handing out candy


last but not least - Lauren, Liz, Renee, Mallory & Frankie once again for sending pictures.
And yet another thanks to Keystone Karaoke
Best Costume - Academy Award (as voted by the Academy)
Cast members of Clue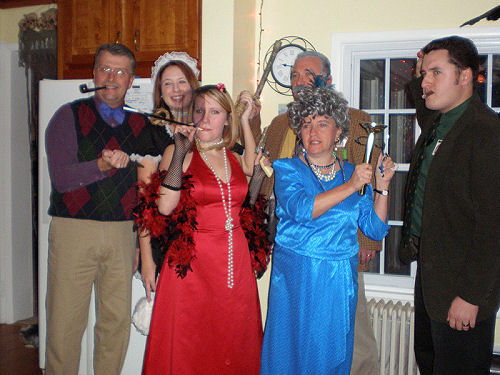 Exactly as Anthony Ernest Pratt intended:
Professor Peter Plum, Mrs. Blanche White, Miss Vivian Scarlett,
Colonel Michael Mustard, Mrs. Elizabeth Peacock, & Mr. Thallo Green
Best Costume - People's Choice Award (you guys voted for them)
Mystery Inc - The Scooby Doo Gang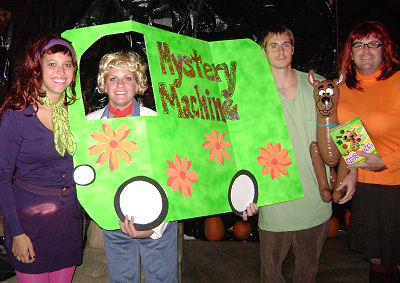 For those of you who were upset that Scooby wasn't real
here is a picture of them with Scooby
who couldn't make it because of a previous engagement (with a babysitter)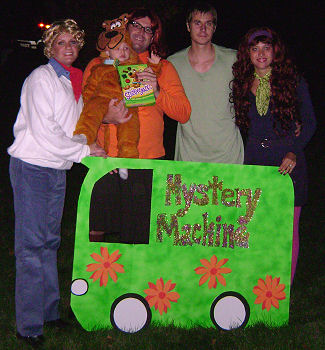 Funniest Costume - Peoples Choice Award (you guys voted for them)
Pooh & Poo (Mr. Hankey)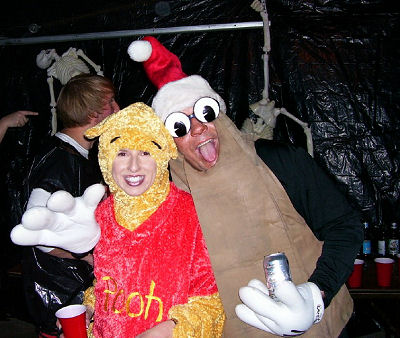 Who doesn't like a Christmas Poo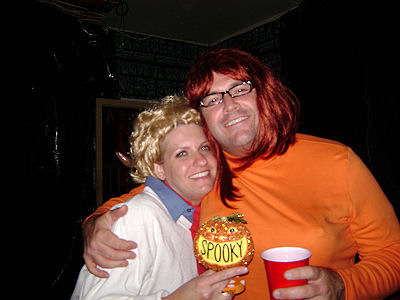 A special (long overdue) award went out to the correct winners of the 2004 Academy Award (long story)
Fiona & Shrek

The JIHMA's
(Johnny's Internet Honorable Mention Awards)
(Pronounced Jeema)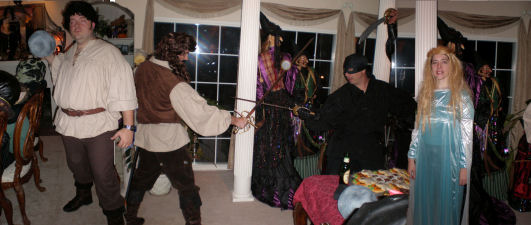 Princess Bride
Fezzik, Inigo Montoya, Westley, Princess Bride (Buttercup)
Awesome Costumes - If only they could have gotten a picture all together
so I wouldn't have to photocrop one.
If they had a Vizzini I probably would have had to break the rules and give them the Academy Award!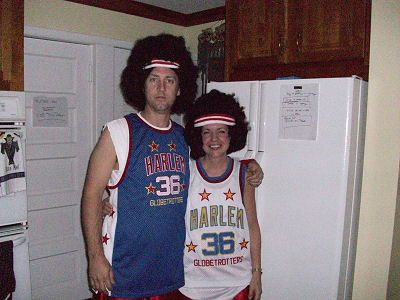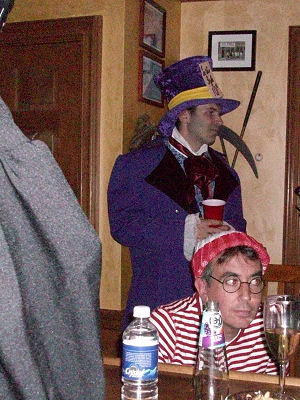 Ah! Lemon(s), a favorite trotter & original and different costume (i don't think he had a fro tho)
The Mad Hatter - Fantastic costume 2nd in peoples choice, and I ask,
is it seriously that hard to get your picture taken for the web site and award photo?
I had to find & crop this one also! What is wrong with you people?
----------------
2008 Online Poll Results

Next year is the big 10th anniversary of the Haunted House Party - which of these should we do?
37% Have a theme like come as your favorite rock star or cartoon character
36% Leave it the same
21% Wear the best costume you've worn to our party (even if it's a repeat)
6% No costumes
What do you typically drink?
64% Beer
22% the Hard Stuff
6% Wine
5% Punch
3% water
For the new Least Effort award, we Should:
42% Have them do a double shot of very cheap tequila?
28% Dump a bucket of goo from the ceiling on them?
17% Throw rotten fruits & vegetables at them?
13% Shower them with expensive gifts?,
Your costume this year is:
28% homemade
24% i haven't thought about it
20% my best one yet
17% I'm struggling for an idea
11% store bought with personal touches
After a few drinks, you are more likely to sing:
32% Even better than before you drank
30% Singalong Songs
14% Rap Songs
11% Rock Songs
7% Pop Songs
6% Country Songs
----------------
More Costumes
and my guesses as to what they are.
Once again I think were missing pictures of costumes! (We tried our best)
I was missing two of my best photographers this year - Tammy & Joan!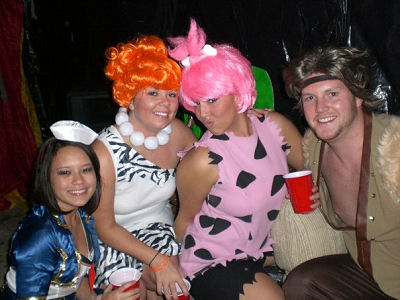 Sailor, Wilma, Pebbles & Bam Bam Banana Pajamas & Black Cat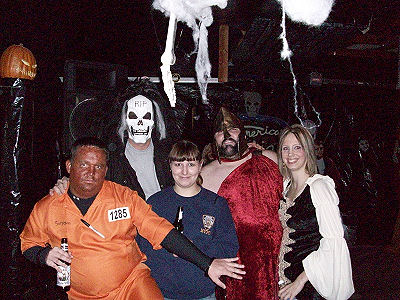 Gomez & Morticia O.J., Grim Reaper, O.J.'s Parole Officer, 300, vampiress?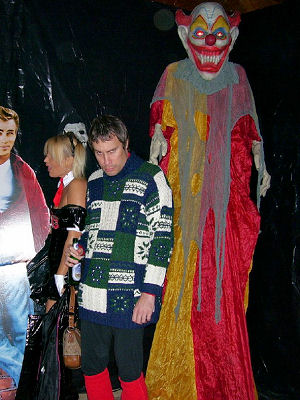 A Boyfriend Instructor??, Lloyd (Dumb & Dumber)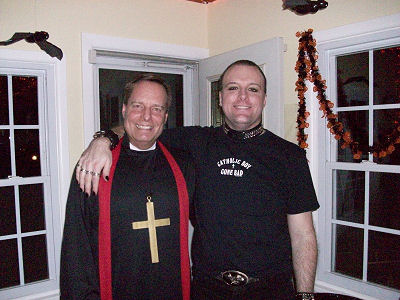 Judge Judy, Green Person with football paint under the eyes? Priest - Bad Catholic Boy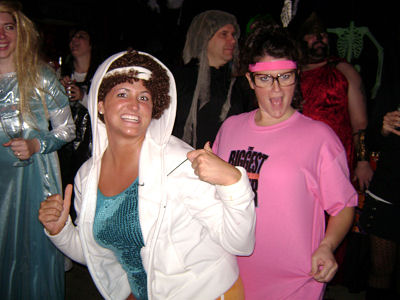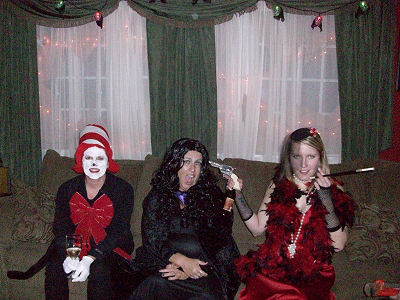 Richard Simmons & Biggest Loser (I know u 2 didn't come together) Cat in the Hat, Zombie? & Clue-less (again)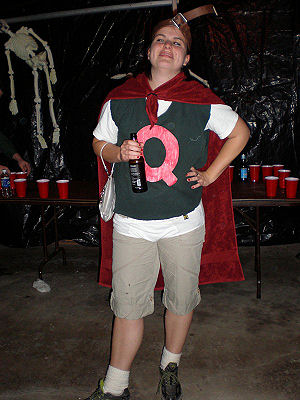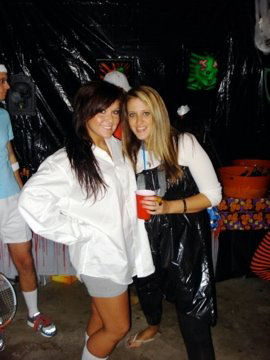 Quail-Man from Doug Cartoon Joel Goodson (if you don't know, look it up) & WT (again)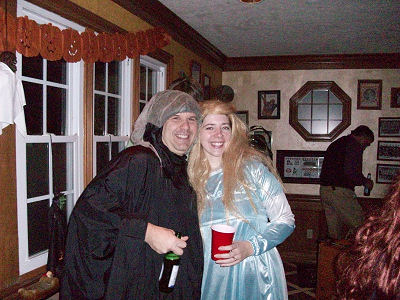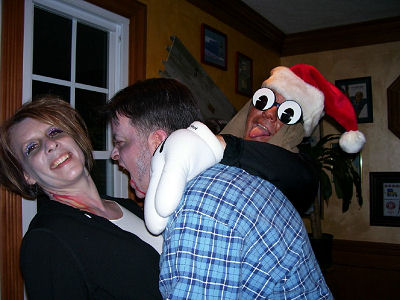 Ghoul (shown with Buttercup) Vampires (shown with Mr. Hankey)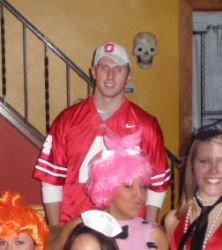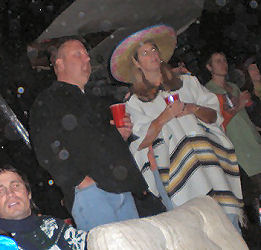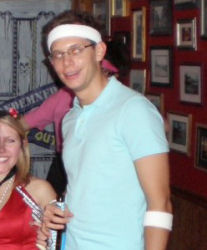 Football Player (maybe Joe the Plumber?) Robber (shown without mask) & Urban Sombrero Girl - Tennis Player
The robber won the Least Effort award, he took his mask off after 2 minutes.
He brought a case of beer though so we're not complaining that much.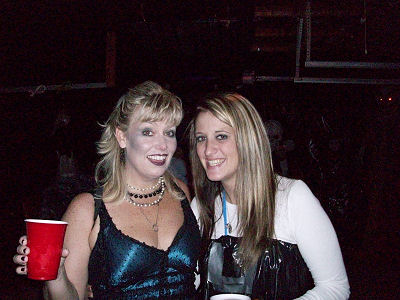 Kim on the left was the "Angel of Death" (sorry you can't see her wings)
I'm Waldo See if you can find me in the pictures below.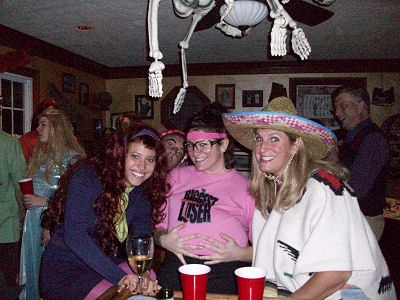 I know there was a bunch more costumes not shown - I could still use more pictures!
Just for fun we recorded the 2008 Trick or Treaters this year also: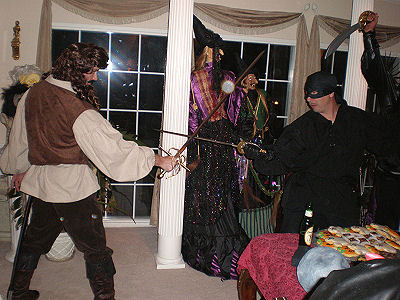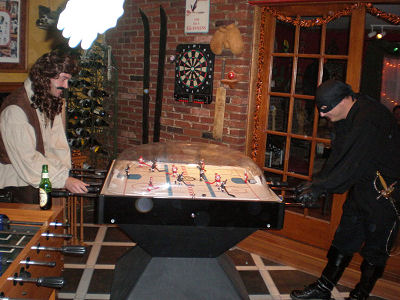 I thought they were both left handed & I don't remember the fight ending this way.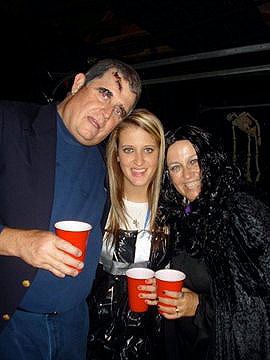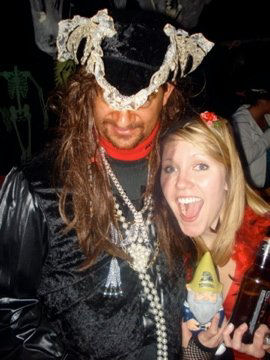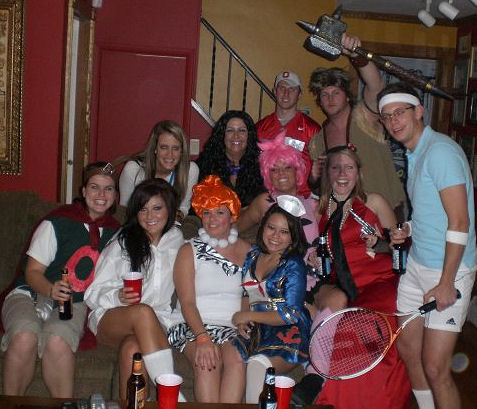 Agony College - I think Urban Sombrero girl went there also!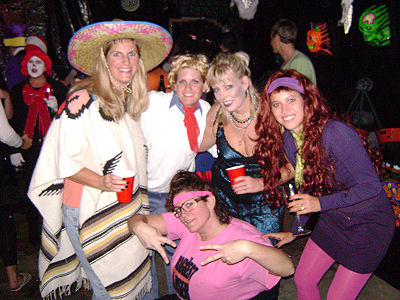 How come the Book Mobile never stops for us?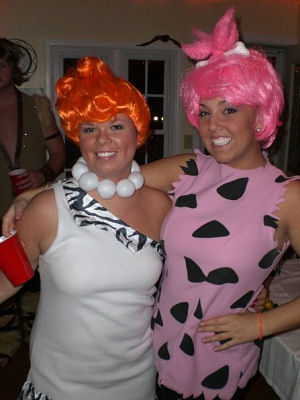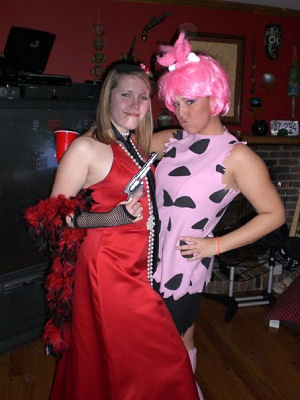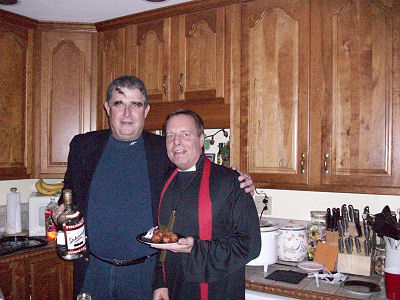 At least now we know where all the meatballs went!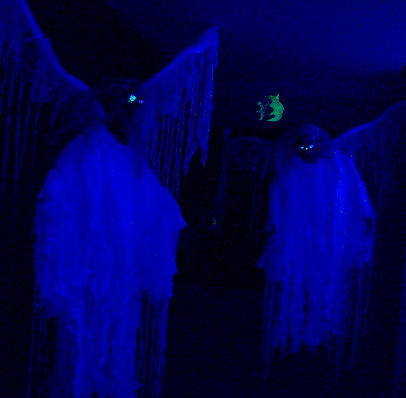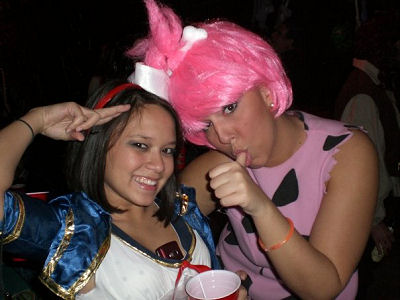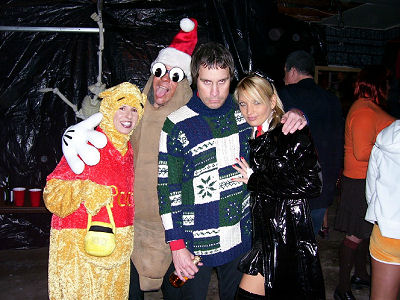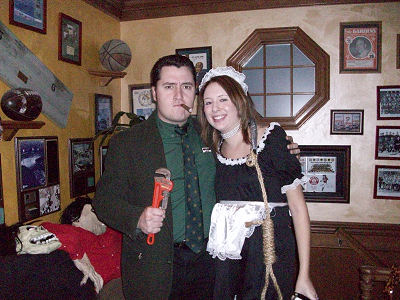 Was it Mr. Green with a wrench or Mrs. White with a rope in the x-Billiards Room?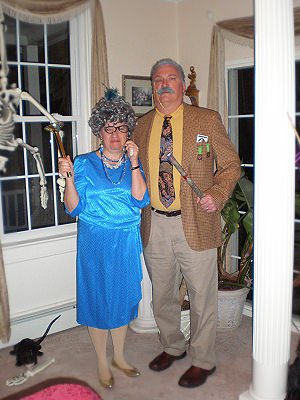 Was it Mrs. Peacock with a candlestick or Colonel Mustard with a lead pipe in the Dining Room
Ah, kids these days.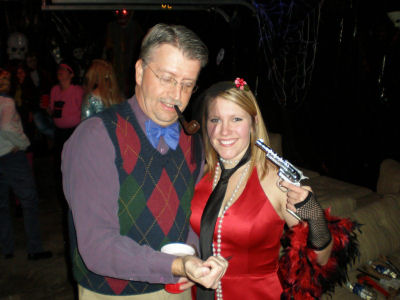 Was it Professor Plum with a Knife or Miss Scarlett with a gun in the Kareoke room?
the answer is below!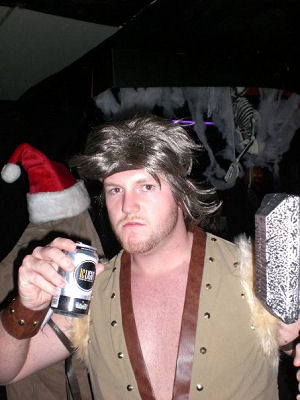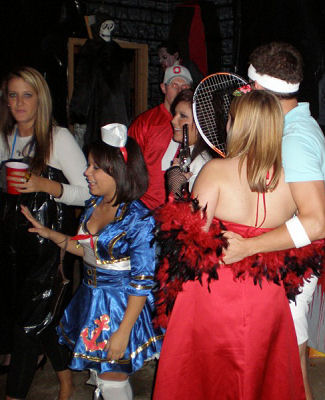 Mini Videos (click on picture)
I think we scared a few people on the way in!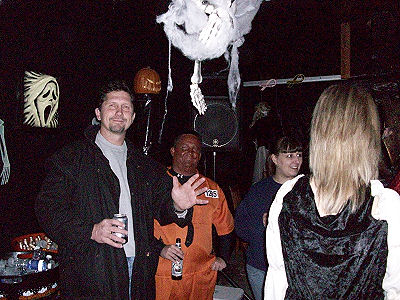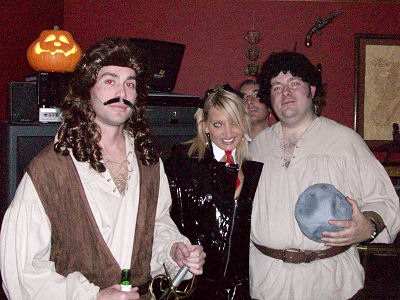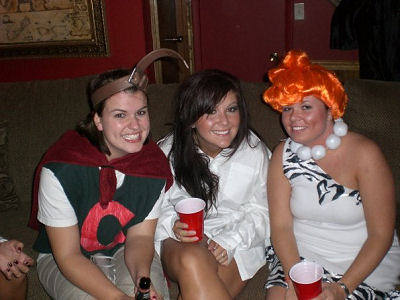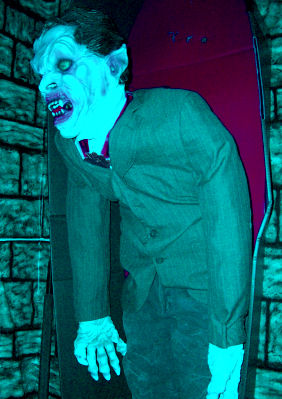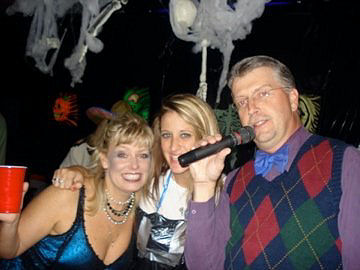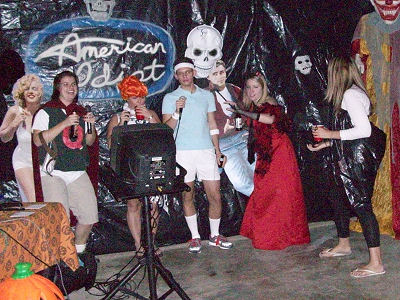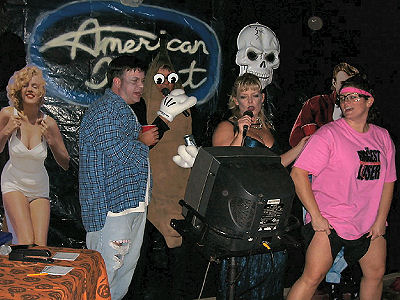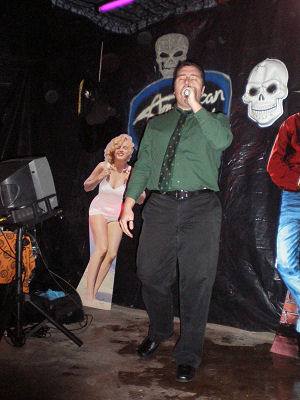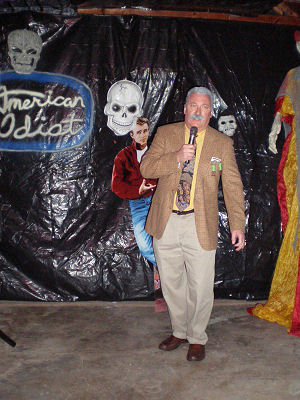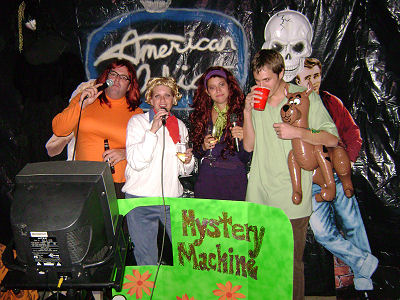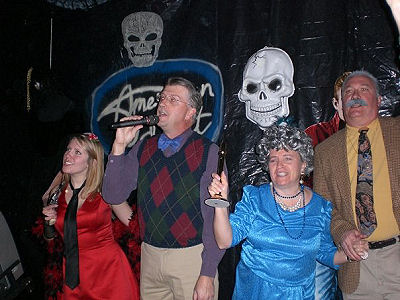 And the have your picture taken with a monster:
What was that all about?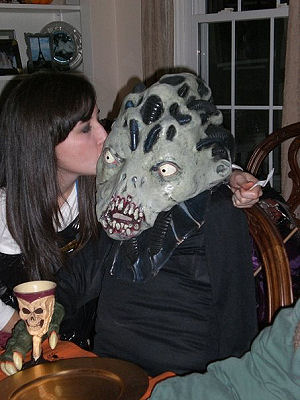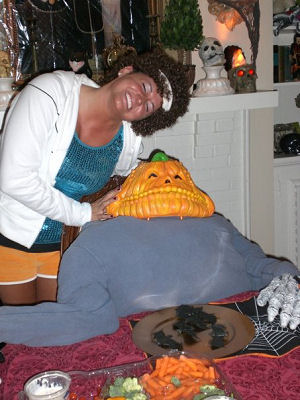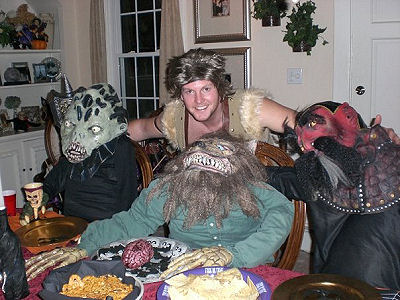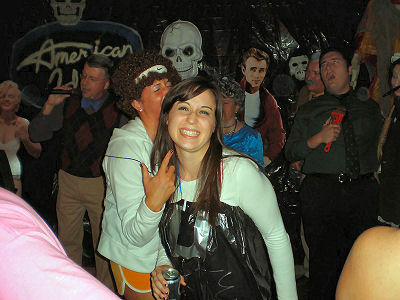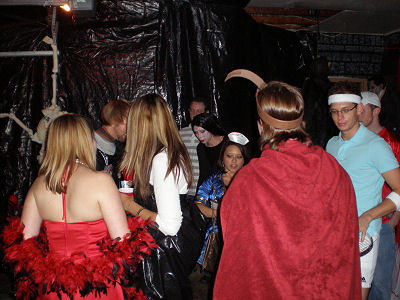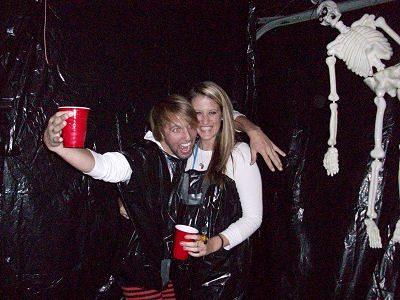 Wow, it's like their wearing some sort of Halloween Camouflage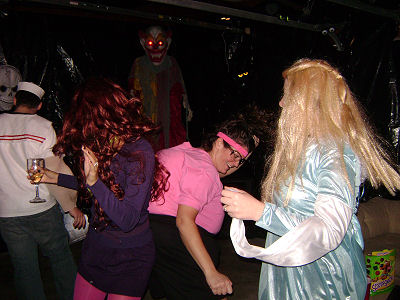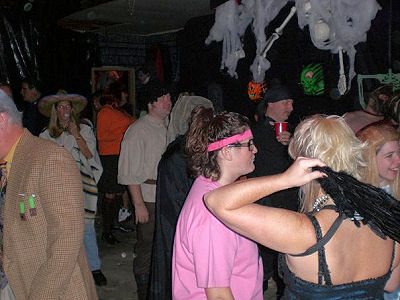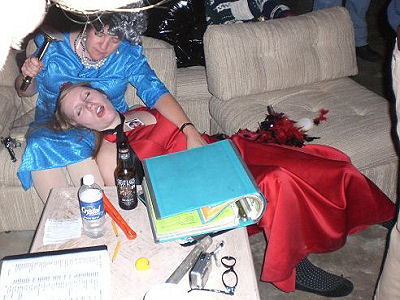 If you guessed Mrs. Peacock with a candlestick in the Kareoke room - you win!
The winner of tonight's mystery clue contest is Jeffrey Corbin... who guessed "some kind of person"
Congratulations, Jeffrey. You just won a brand-new Chrysler Cordoba. You can pick it up at Morty's office.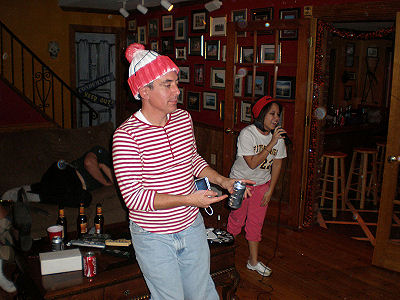 me getting whooped at Rock Band "Billy Joel - Uptown Girl"
More Awards!
This years Extra Effort award
goes to Inigo Montoya who ended up slaying the 6 fingered guy
at 5 in the morning with his rendition of "That's Amore"!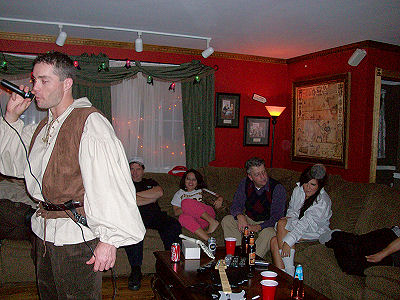 Winner of the Fastest Finish "Broken Tombstone Award"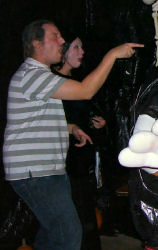 Not really a fastest finish as much as a "BTA"
for his exceptional work with the men in blue prop later in the evening.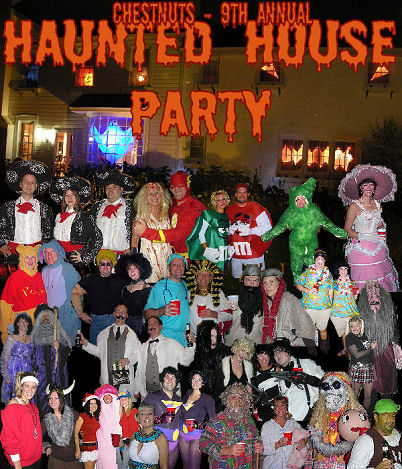 The invite (if you were lucky enough to get one) :)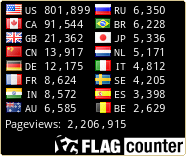 Thanks again to Kim (the one on the left) for letting me do all this crap!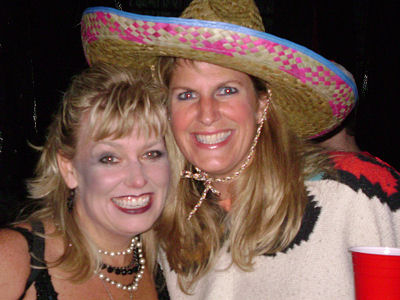 Hope yins guys all had fun n'at!
See ya next year!