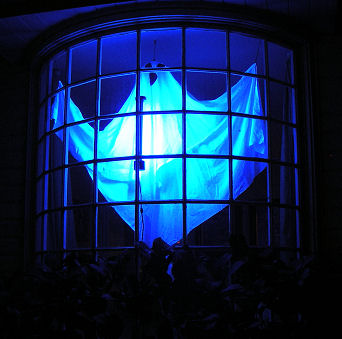 Haunted House Party 2007
(the video is not ready yet, but I thought I'd get some pics online!)
Halloween Home Page
If you have good pictures please send them to Ghost@HalloweenPartyZone.com or mail them to our house.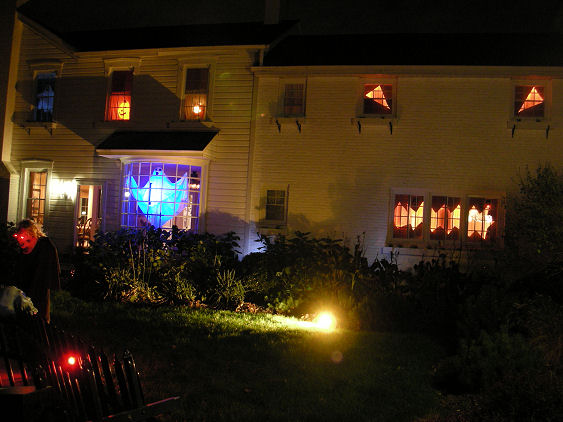 The Thank You's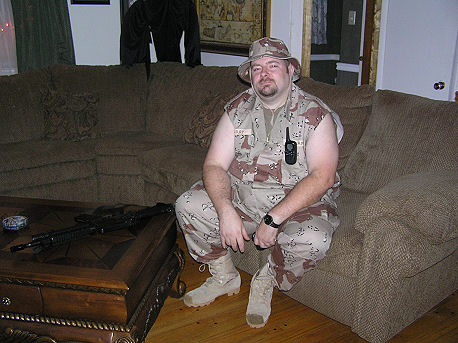 The biggest thanks this year once again goes to Frankie (I think he did more than me)
On top of helping every day, he set up the lightning effect & scary stuff last minute in the entrance,
activated the scary stuff and made you guys hop around and hold your arms up to get into the party.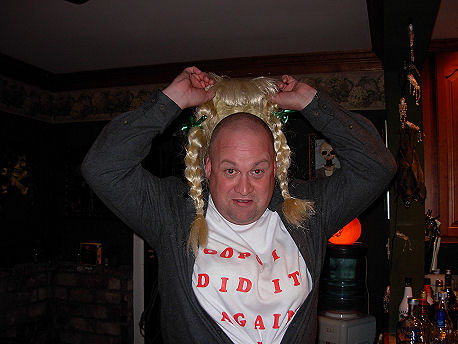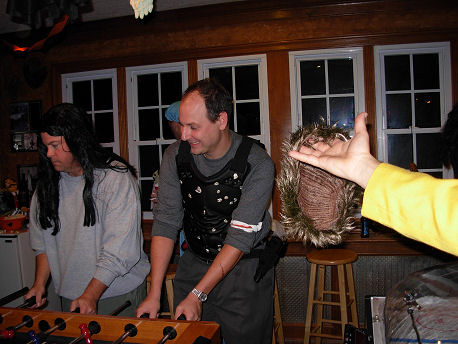 more thanks to Britney Bill, and Mr. Joey Smith (shown without their wigs)
who both had very busy weeks and yet took the time out to help.
Another thanks goes to Doug Pye (wig still on) for last minute setup, & beer run & beer run & beer run.
and even more thanks to Joey for the help with the moving eyeball skeleton head.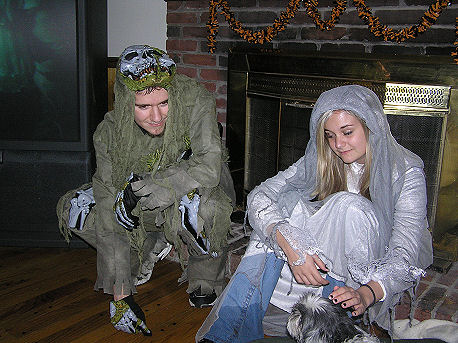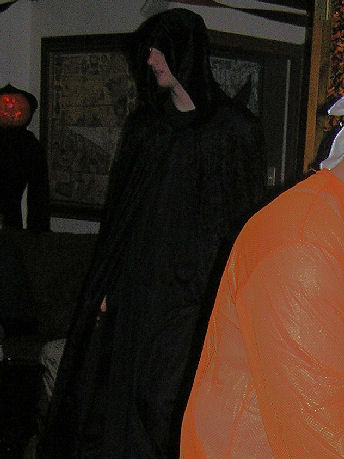 another thank you to Mike, Emily & Jared for all the help scaring you



last but not least - Tammy & Steve, Kristin & Eric, once again for helping with last minute setup stuff
& lemon + lime slicing.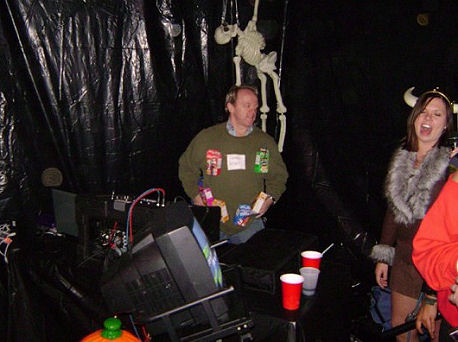 And yet another thanks to Cereal Killer - DJ Dave & Keystone Karaoke
We have about 8 cases of beer left - John G, Pfeif - thanks for bringing beer!
We're gonna need another party just to finish the beer!
Tammy, Mallory, Renee & Pat, & Lauren- Thank you for taking & sending your pictures & video!
We can still use more photos/video - Lauren I heard you have a great Humpy Dance video!
Best Costume - Academy Award (as voted by the Academy)
Zan and Jayna - the Wonder Twins - from the planet Exxor.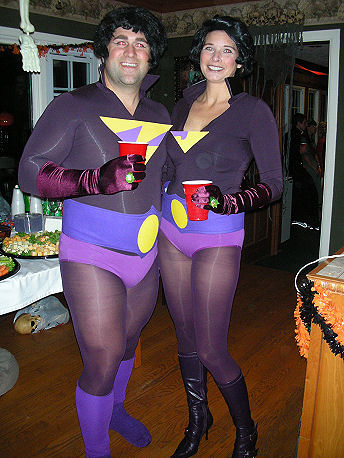 Exxor must be in Minnesota somewhere.
Zan and Jayna - ZJ is $15 - if you have to ask you can't afford it!
Best Costume - People's Choice Award (you guys voted for him)
Edward Scissorhands!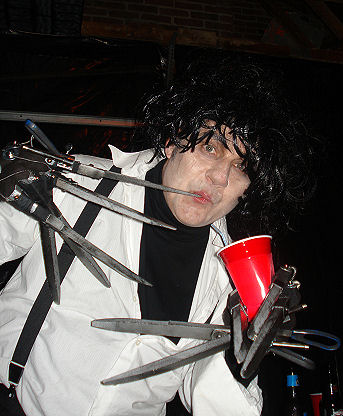 Ouch.

Funniest Costume - Peoples Choice Award (you guys voted for them)
Justin Timberlake & Andy Samberg


View their NBC video: http://www.nbc.com/Satur day_Night_Live/uncensored.shtml
5 great costumes that received the most sought after
JIHMA (Johnny's Internet Honorable Mention Award)
(Pronounced Jeema)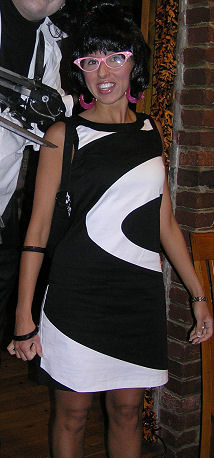 Joyce
Poor Liz always the bridesmaid never the bride. Not anymore!
Why is it that even though Liz always has fantastic costumes she never gets voted along with Rob?
It's because no-one knew the name of the neighbor in Scissorhands.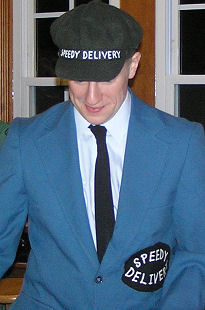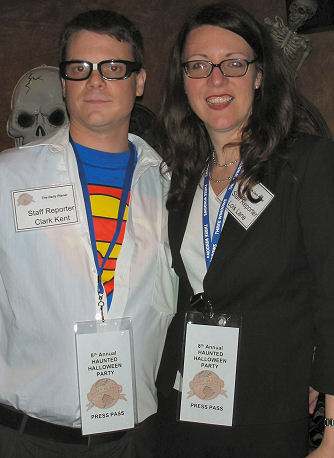 Mr. McFeely (left)- Speedy Delivery - Great costume - Finished second in Academy Voting!
Clark & Lois (right) I know what your gonna say - Clark was here last year. (he looked different)
Not knowing there was going to be a check in at the front door these two managed to obtain All Access Press Passes.
I had no idea we even gave them out! When questioned about their integrity at the front door, Lois
argued with The Lord of the Underworld, showing her pass.
How could they not get a JIHMA?
A video of Clark & Lois battling TLOTU will be posted soon!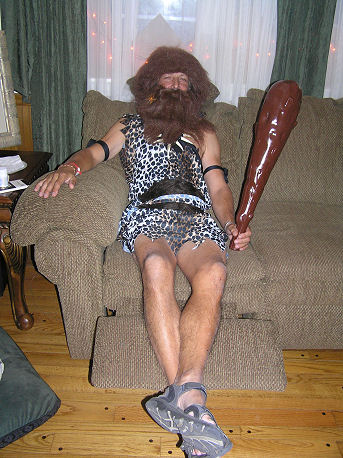 Another JIHMA goes to Caveman - A back operation in the morning and
Halloween Party at night, notice the orange wrist band! That's dedication!
----------------
Online Poll Results

If it were up to you which of these would you have as entertainment?
56% Kareoke/DJ
44% Band
Which of these would be best for the party?
42% Beer Pong
24% Dome Hockey
10% Dunking Machine
9% Bobbing for Apples
8% Foos Ball
4% Pool
3% Batting Cages
If we were to add another award this year which one should we add?
41%: Least Effort
19% Most Original
18% Best Couples
13% Crudest
9% Scariest
Your costume this year is:
35% Haven't quite figured it out yet
22%: 100% home made
18% Store bought with personal touches
12% Store bought
8% Donald Trump with Rosie O'donnell
5% 100% politically incorrect
What are your chances of winning an award this year?
32% Slim 2 None
24% I still haven't figured out my costume - quit bugging me!
21% I like the new Arby's grilled subs
21% Maybe if I butter up the judges
2% I'm going for it
----------------
The Costumes
and my guesses as to what they are.
Question - Can anyone explain a bunch of candy bars with scotch tape on them left in our upstairs bathroom????
Once again I think were missing pictures of costumes! (We tried our best)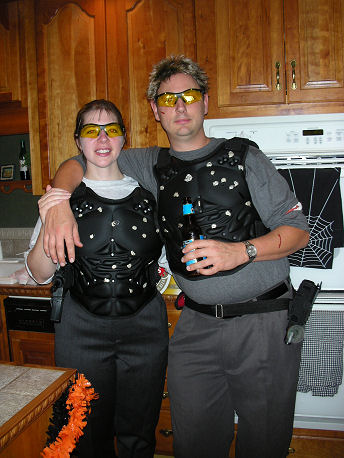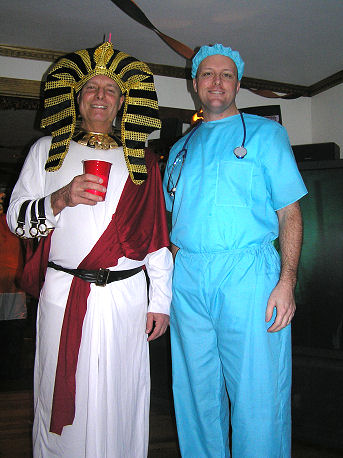 Mrs & Mr. Smith Pharaoh & Surgeon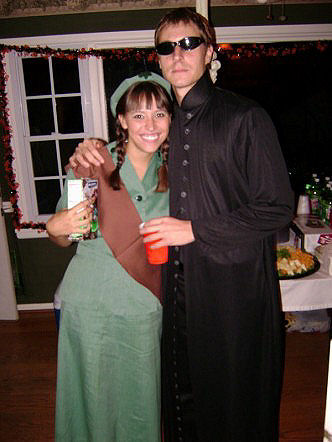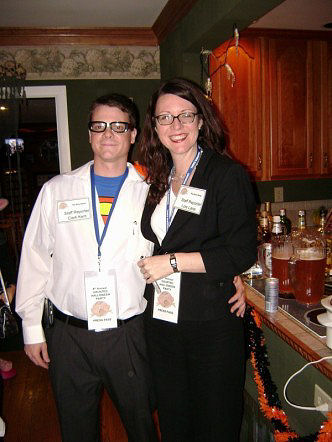 Girl Scout & Neo Clark Kent & Lois Lane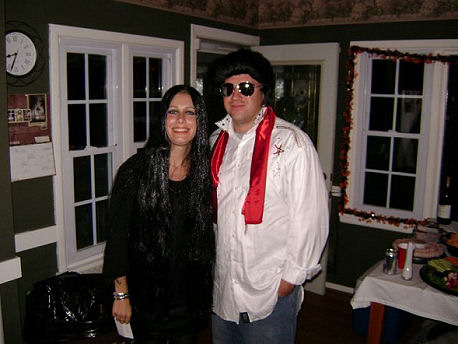 Priscilla & Elvis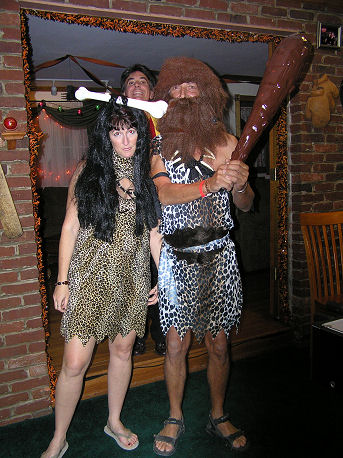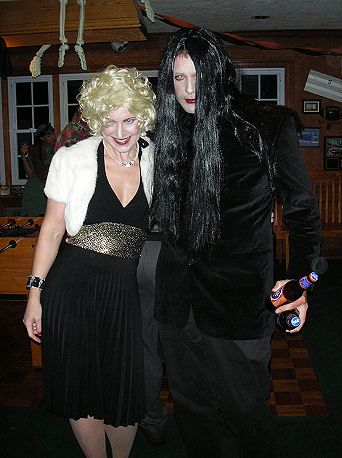 Modern Cave People Marilyn & Marilyn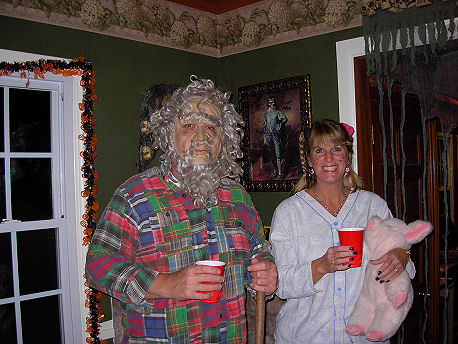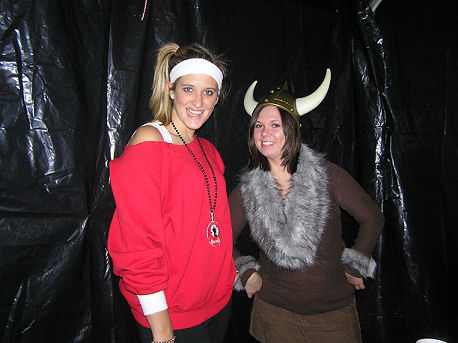 Old Guy & Sleepover Jazzersize & Viking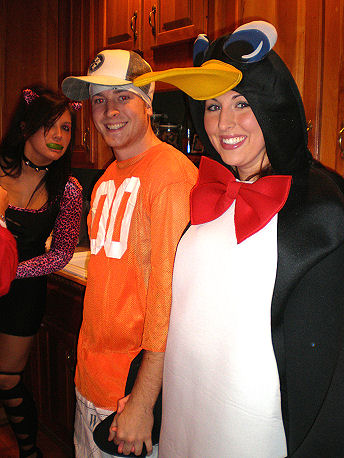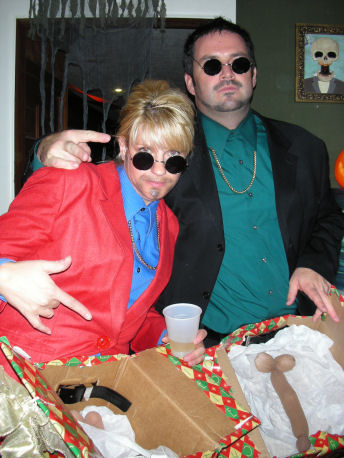 Tighty Whitey & the Penguin Justin Timberlake & Andy Samberg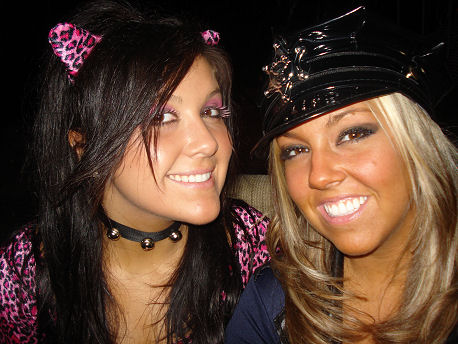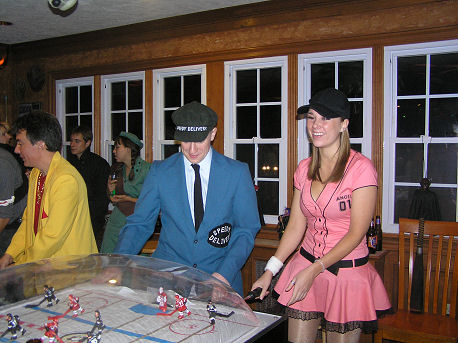 Kitty Kat & Officer of the Law Mr. McFeely & League of Her Own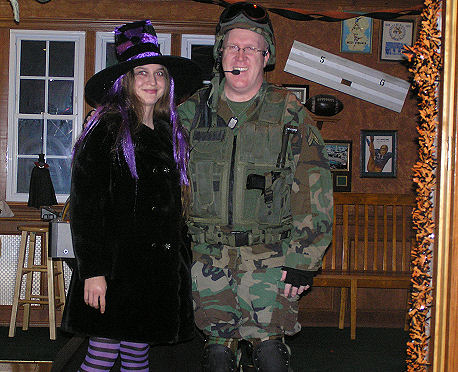 Witch & Dead Patrol Guy
John G's Dead Patrol Series: http://www.deadpatrol.com/default2.asp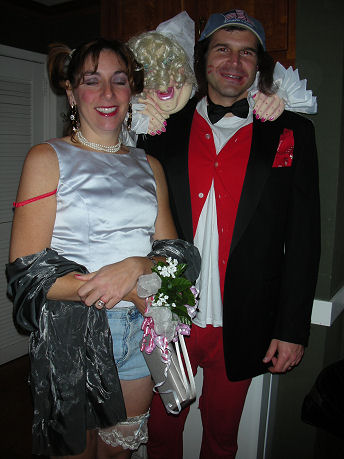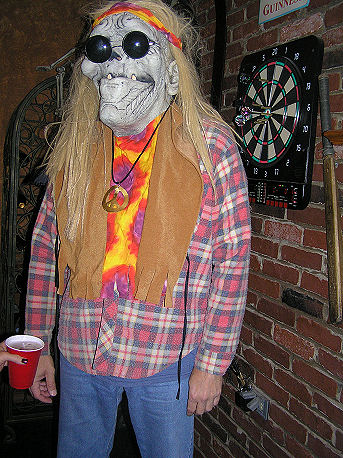 West Virginia Wedding Jerry Garcia?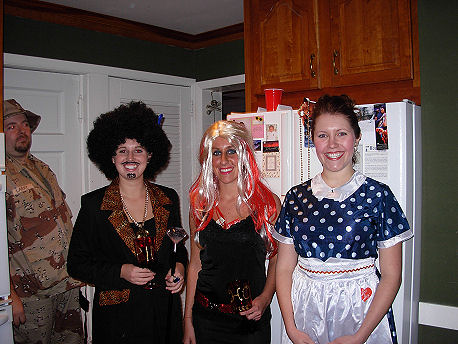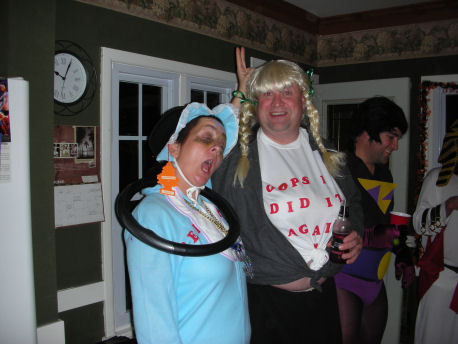 Larry the Cable Guy, Pimp, Ho & Lucy Sean Preston Spears Federline & Britney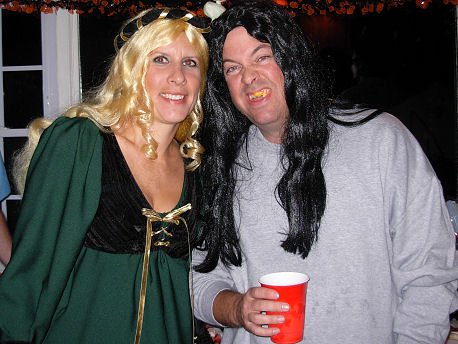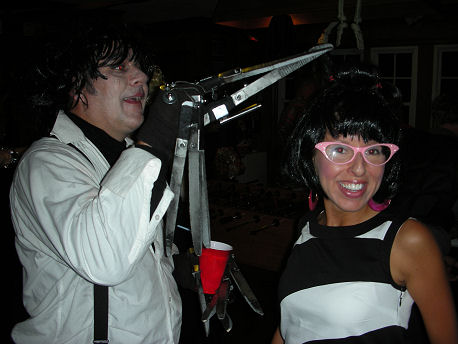 Maid Marion & Neil Pye Edward Scissorhand & Joyce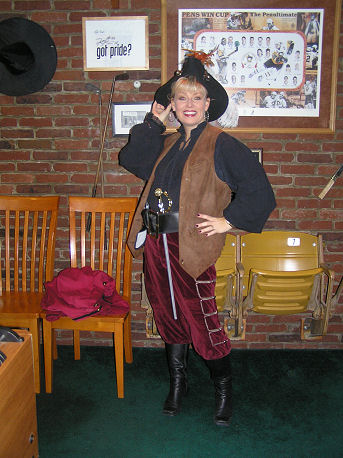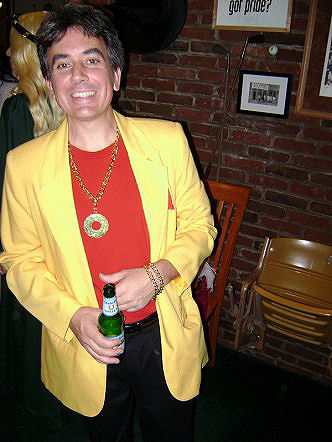 Arrgh, I'm a Pirate me - Nick Pappagiorgio from Yuma Arizona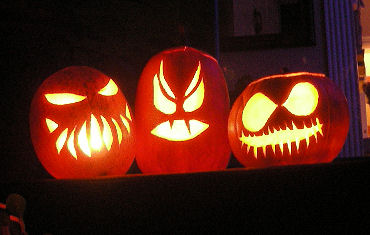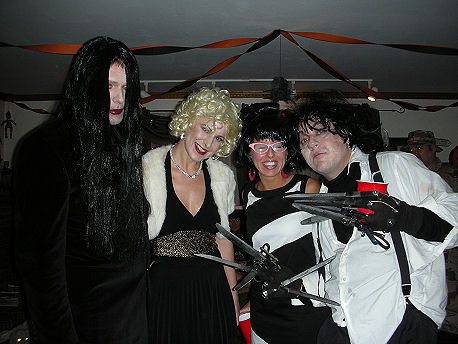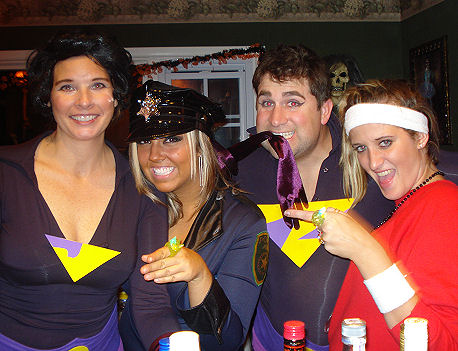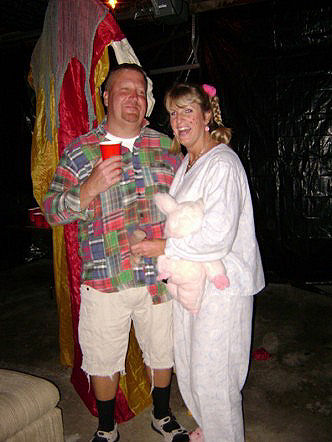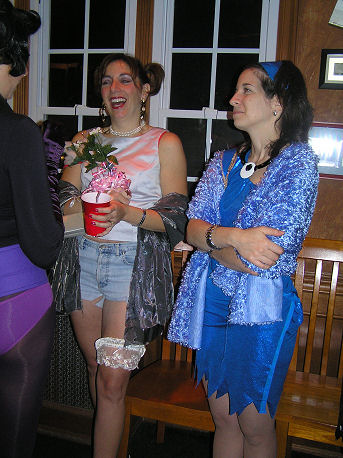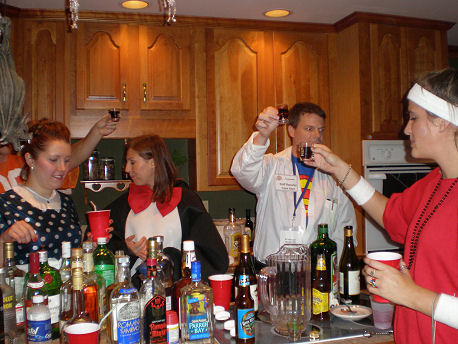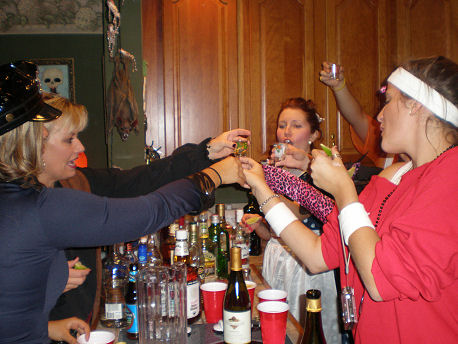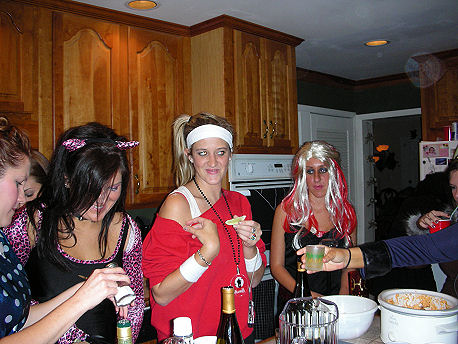 Mini Videos (click on picture)
I think we scared a few people on the way in!

You'll poke your eye out....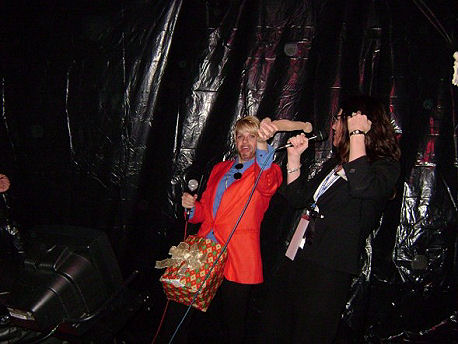 and slice your tongue off....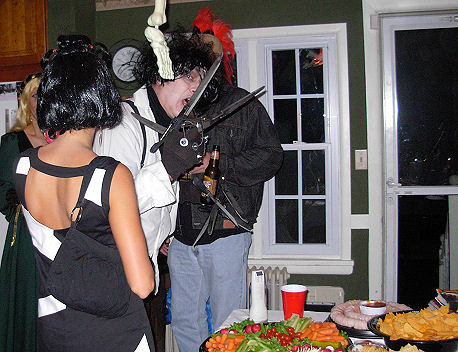 And now, the snake pics....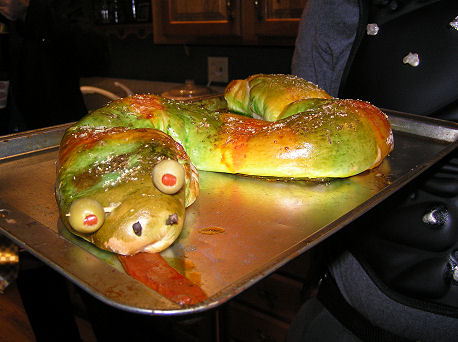 no, the one eyed snake pics....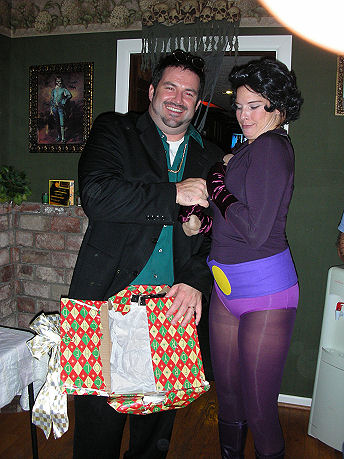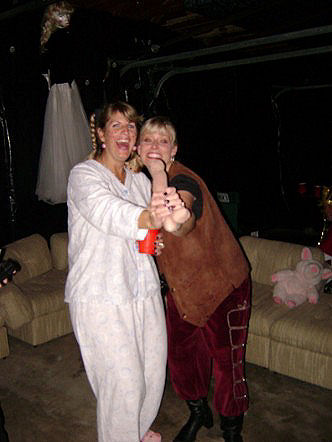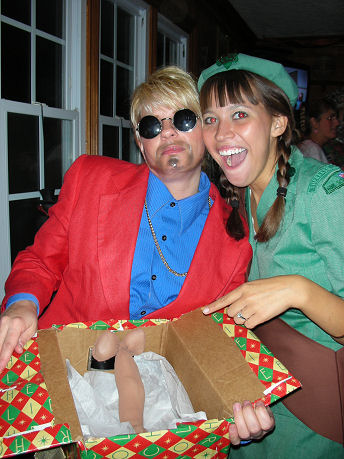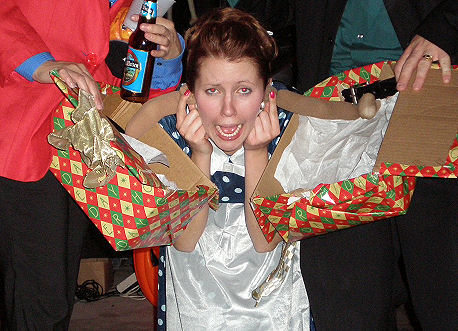 Waaahaaaaaaa!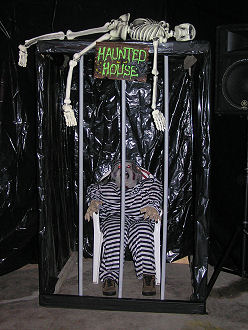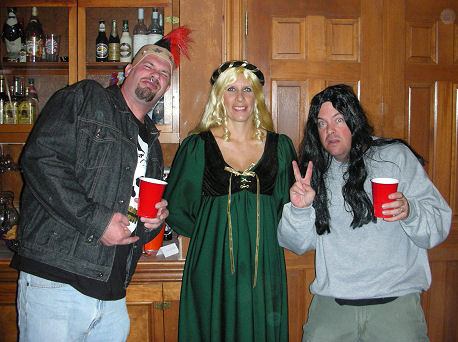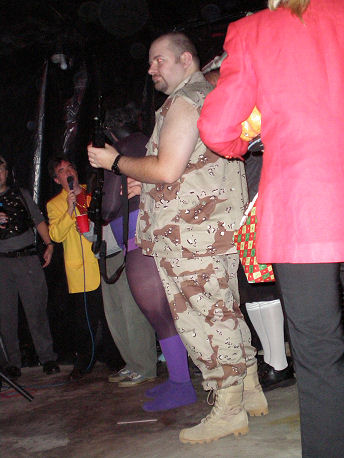 Larry the Cable Guy, making sure we don't have a repeat of the 2002 Award Ceremonies
American Idol finalists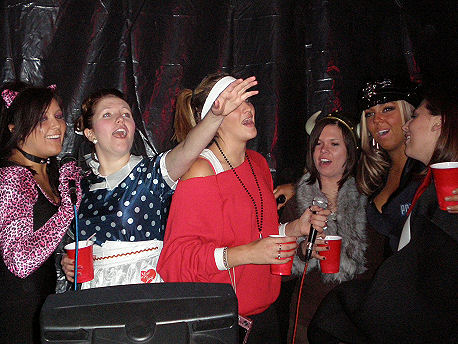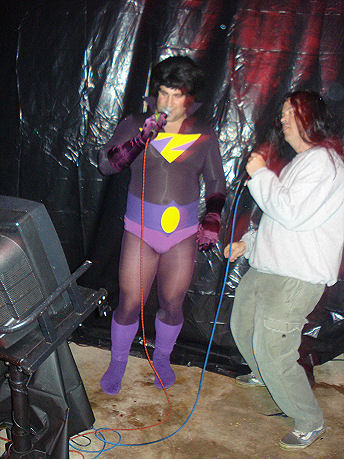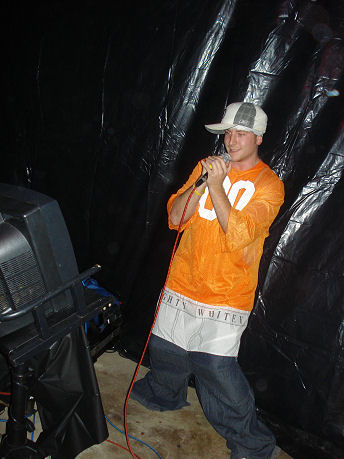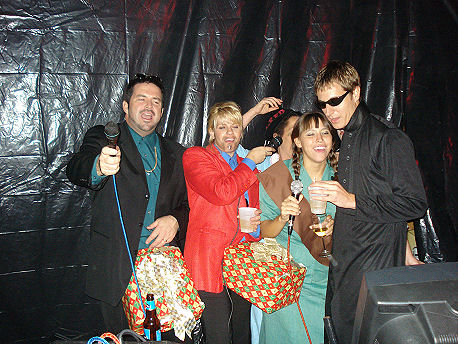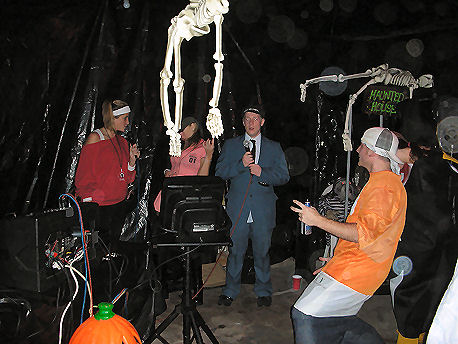 My invisible friend stole my air guitar - J. R. Shultz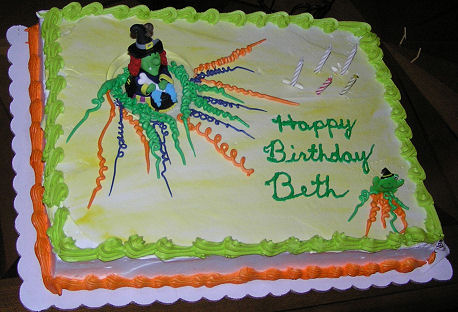 Beth apparently just turned 5 today.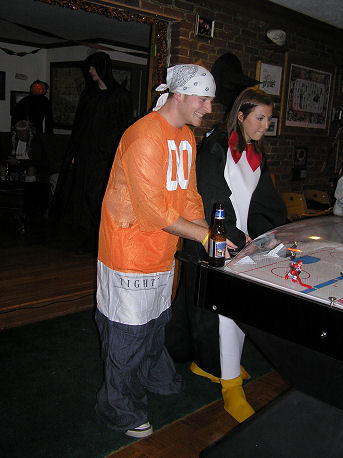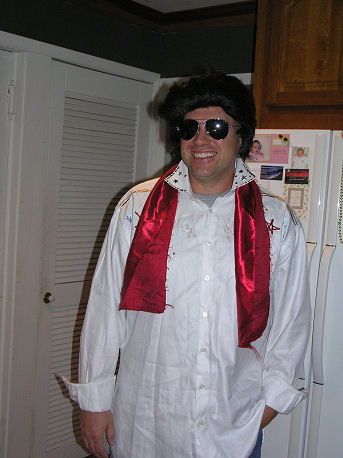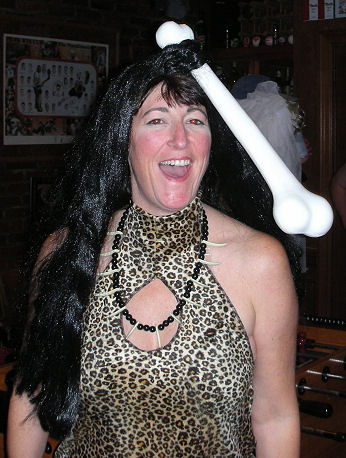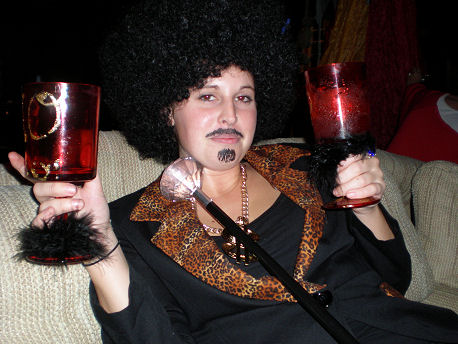 And the Beer Pong...
What the heck going on over there?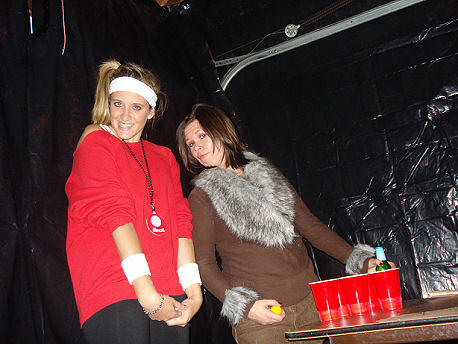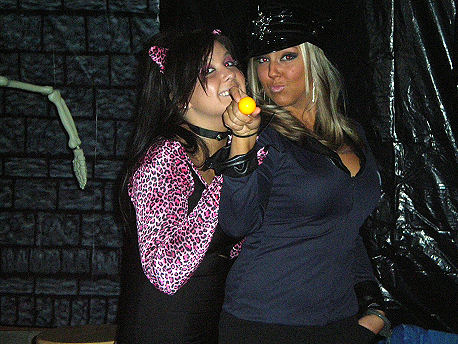 More Awards!
This years Extra Effort award goes to Jazzercise (shown here with her friend)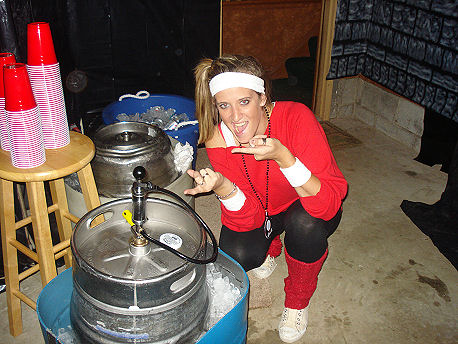 It was supposed to go to Lucy (last years winner)
until this incriminating evidence was turned in to us (by Jazzercise)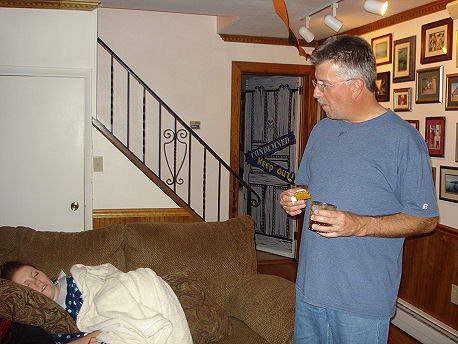 From a Finalist in the EE award last year to
Winner of the Fastest Finish "Broken Tombstone Award"
Britney Spears son - Sean Preston Spears Federline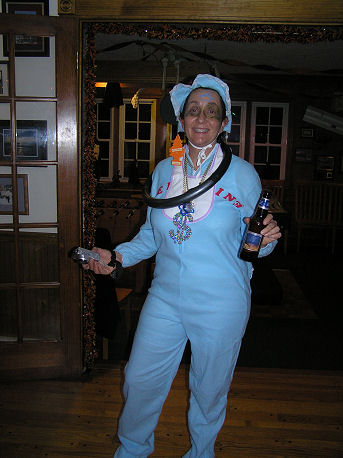 Last years FF (BTA) winner made it to at least 1AM (3 hours longer than last year) by drinking water.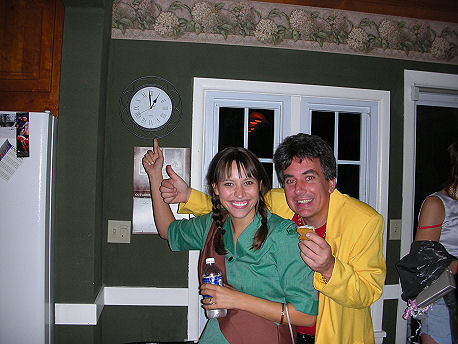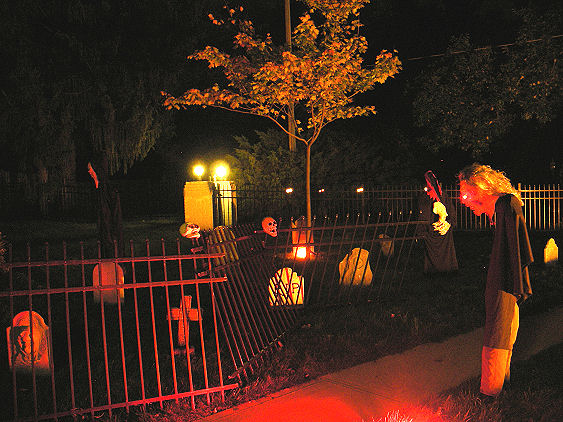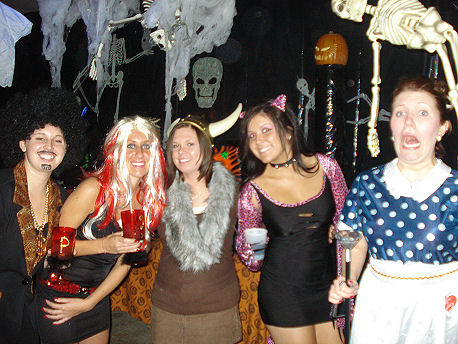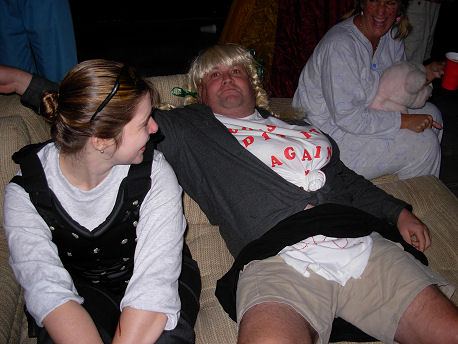 I don't wanna know what she did .... again!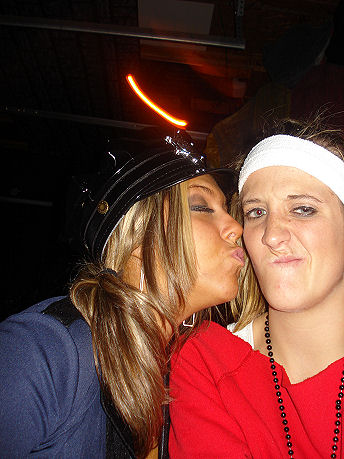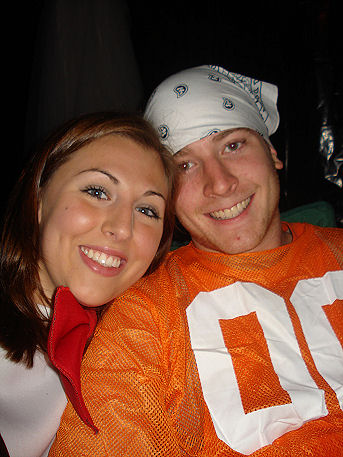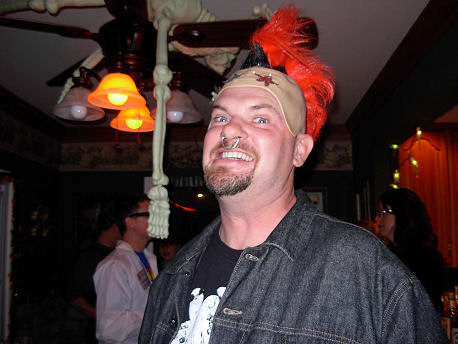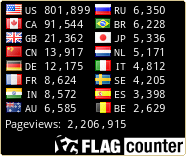 Thanks again to Kim for letting me do all this crap!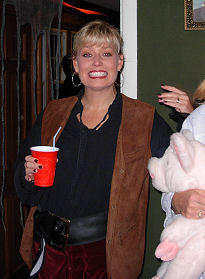 Hope yins guys all had fun n'at!
See ya next year!